The best getaway vacation in Eureka Springs can be found in a grove of Loblolly Pine trees and cabins. Tall Pines Inn has everything you need to enjoy a Spring and Summer vacation. Don't wait to book, our cabins and suites are popular, book your favorite unit now!
Eureka Springs Lodging History
World War II brought travelers into the small towns looking for peaceful lifestyles they found there. Improvements in transportation and roads made travel more accessible and allowed visitors to flock to intriguing small towns. Eureka Springs found a great increase in travel to the area during this time of growth. Rapidly business grew, and so did industry. Lodging of all types sprang up and the lodging business was booming. Travelers poured into the region, many of whom needed housing, and the construction ramped up.
Tall Pines Inn History
Tall Pines Inn has been operating as an Inn since 1947 and is on the National Register of Historic Places. The cabin, constructed by Philip and Alice Nordquist in 1947, who moved from Chicago, Illinois to Eureka Springs, looked modern for the day. The main house, known as a "dogtrot" house, had a unit on each side with a breezeway in the middle for ventilation. Porches of wood added to the cabins, in later years, gave the cabins a finished appearance.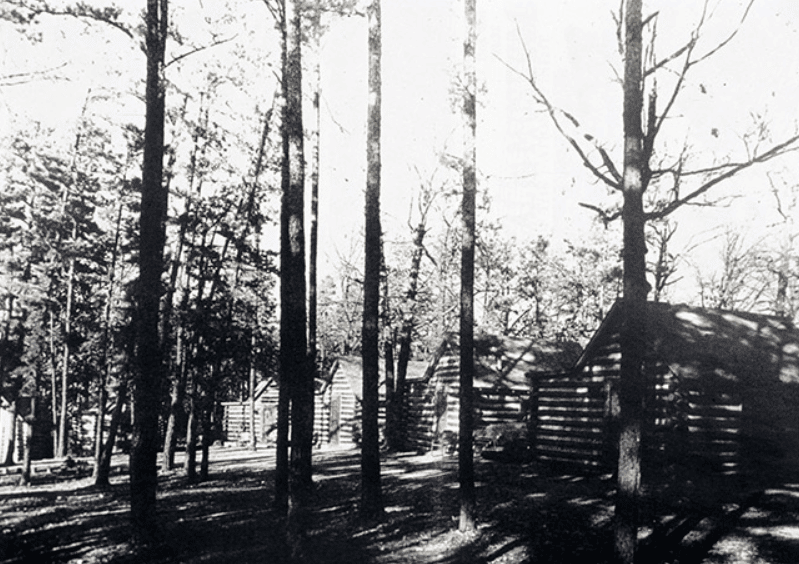 What Makes The Tall Pines Special
Tall Pines Inn is the perfect destination for a memorable getaway, unwinding, cooling down, and gathering with friends. The cabins have a rustic atmosphere, but we provide all of the modern comforts of a luxury hotel. However, when we gather on the grounds with our guests, the number one thing we hear is "this place is so peaceful" and "we had no idea what a great place this is"! At Tall Pines, we have four spacious gathering areas, including fire pits, chairs, picnic tables, and even yard games. You also have access to a Coke Machine and an "endless" ice machine. But what else could Tall Pines possibly provide?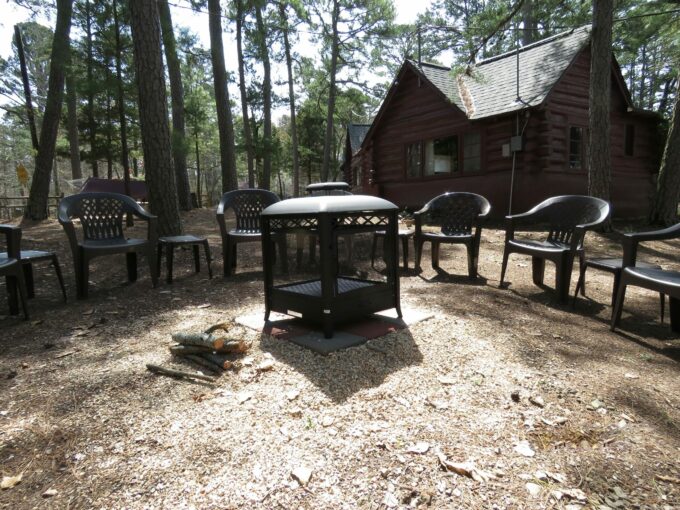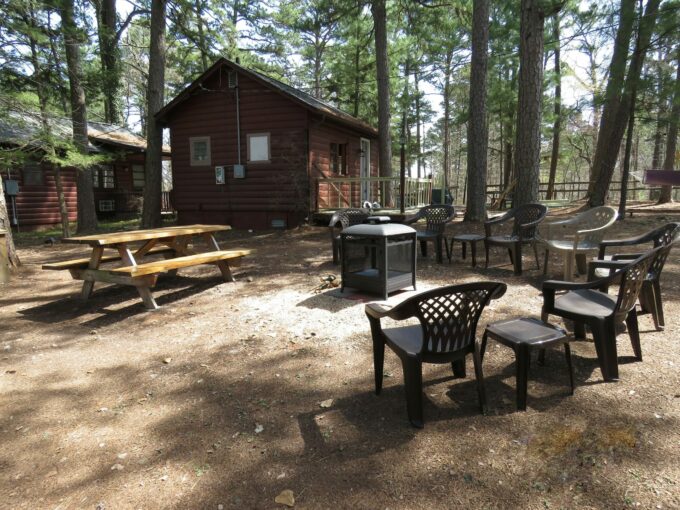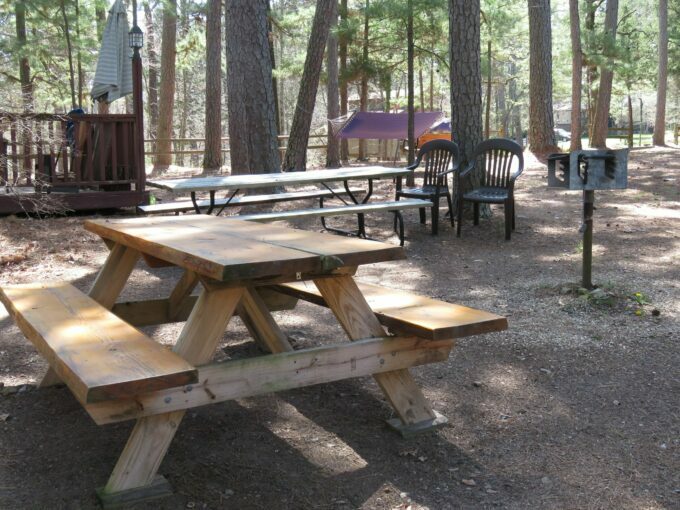 All Inclusive Lodging
We believe your lodging should be more than a cheap bed, a place to hang your hat for a couple of days, a hot shower, etc. For some of you, this is your only vacation for the year or a badly needed getaway; make the most of it. At Tall Pines Inn, we believe we have the best getaway, and you don't have to turn your pockets inside out to get pampered and have a memorable getaway!
Have a Welcome tray waiting in your cabin for you when you arrive. Admit it; food and drink sound amazing upon arrival. Do you seriously want to head out to find food or a beer the minute you roll into town? Unwind first with our healthy meat and cheese Charcuterie Board (two price levels) or a smoked veggie bowl. If a bottle of wine or a 6-pack would be a great pairing with the snack, call us to order.
Add even more simplicity to your vacation by ordering our grilled style Breakfast to your reservation. Dinner is soon to come, details are coming in the near future. You can opt at Booking to add Room plus Breakfast, OR you can simply add the number of breakfasts you wish to receive during your stay with us.
Packages for any occasion can take an ordinary stay to an extraordinary stay. Choose romantic chocolates and champagne waiting for you when you arrive or our popular Rose Petals, Candles, and Music set up to greet you when you open the door to your cabin. If you are celebrating a special occasion, we have packages that include dinner at one of the premier restaurants downtown and a bottle of wine. See our website list of specials for an inclusive list of specials.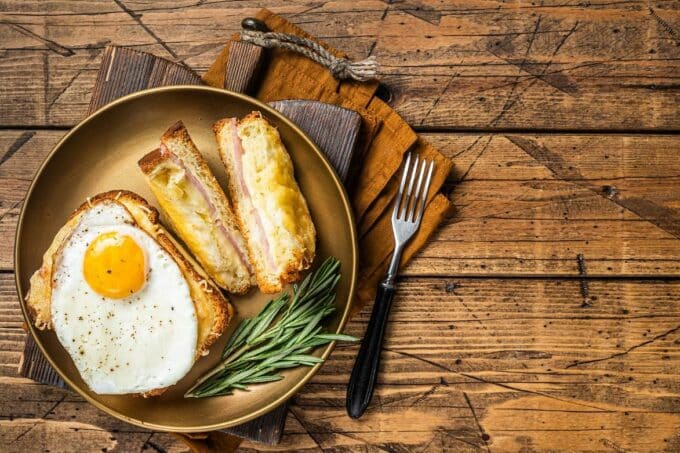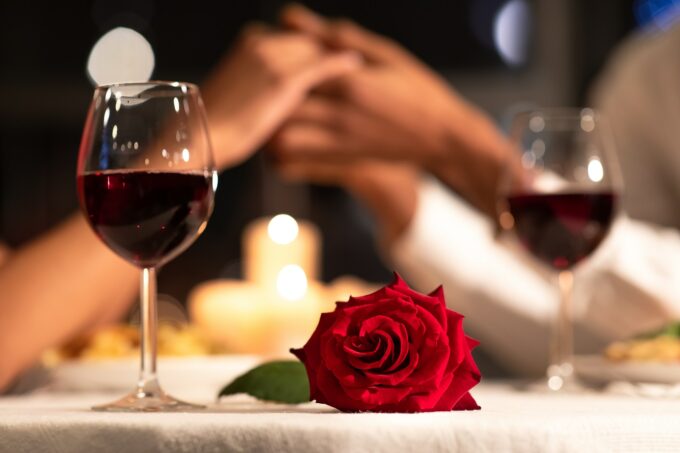 Convenient to Attractions in Eureka Springs and Ozarks
Tall Pines Inn is conveniently located on Highway 62 on the West side of Eureka Springs. You have easy access to all major roads in the area. The Historic Loop and famous Crescent Hotel is only minutes from The Pines. If you prefer not to drive, no worries, we are on the Eureka Springs Trolley Line. Tall Pines Inn is stop 104 on the Purple Line and everything you need to catch the Trolley is provided to you in our office. There is nothing worse than spending vacation time driving in the car, and when you stay with us you are only minutes from major points of interest.
Home of Dunkin
When guests arrive at Tall Pines Inn, they are eager to meet Dunkin. If you are not familiar with Dunkin, he is our Guest Greeter, and he loves everyone. Animal lover or not you may enjoy entertaining this happy guy. Dunkin loves to spend time on your porch visiting and getting scratches. Dunkin is also great at organizing refrigerators if you need his assistance. Feel free to take your picture with Dunkin and hang it on our Dunkin wall in the office!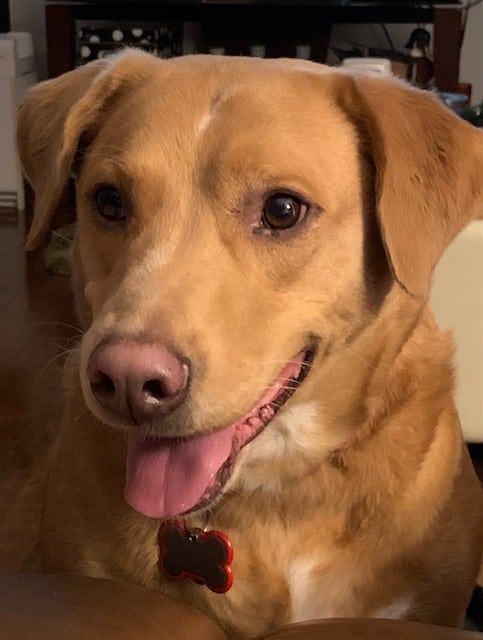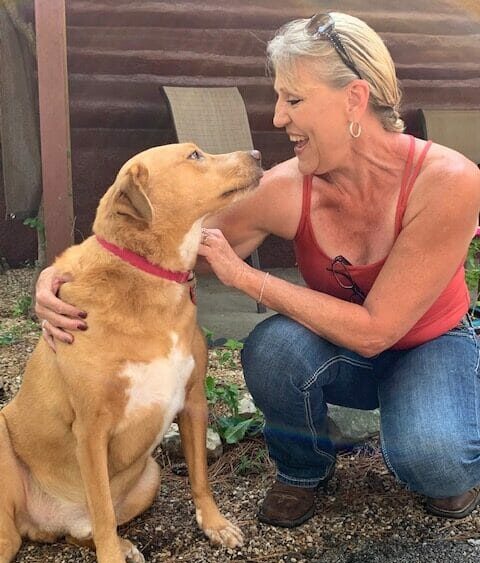 Hosts That Provide and Listen
Tall Pines Inn has owners/Innkeepers who deeply care about their guests and have built an experience they would want to experience themselves. They have added amenities that pamper their guests because they understand how it feels to be treated special when you're away from home. Michelle and Keith, with their brief four years at The Pines, have identified ways to create a personalized getaway for their guests. They provide luxury bath products, hairdryers, plush bath towels, and warm bathrobes, just to name a few. That is not to say they have refurbished every one of the 21 units, but you will see many improvements.
The number one frustration is guests who have something go wrong but choose not to say anything until they can say it in a review. The only problems that are too big for Michelle and Keith to solve are the ones they do not know about. Of course, there are a few requests that leave us perplexed. Requests like Historic Cabins with central AC, more space for parking, or fix your outdoor tick problem, are very difficult! These items would be lovely to provide, but alas, some requests unfortunately go unfulfilled for obvious reasons. Overall we believe Tall Pines Inn has what it takes to provide the best getaway in Eureka Springs. Welcome!