What makes the Tall Pines Inn Eureka Springs so special?
We think it's over 70 years of conscientious care-taking dedicated people working with their own hands and minds to ensure that the Tall Pines Inn Eureka Springs continues to provide travelers with pleasure and comfortable accommodations for the next 60 years. Plus the loyalty of our guests, some of whom came here as kids and are now bringing their own kids, and many who honeymooned here and return, year after year, for their anniversaries and family gatherings.
What Our Guests Say . . .
"Cabin at an affordable price! Loved our stay in the Family Duplex. Nice, clean cabin at an affordable price. So much like home – very comfortable. We will definitely be back to stay at Tall Pines. Thanks so much!" The Boatman's of Louisianna
"Our favorite place to stay. Thank you for a wonderful memory making experience. This became our favorite place to stay after our first trip here last fall. We love "our" little cabin and sitting outside watching the wildlife." Doug and Tracy of Oklahoma
"Relaxing and Rejuvenating. We returned here to celebrate our 11th anniversary and were fortunate enough to spend our honeymoon here in 2005! This cozy loft {The Loft} is the most relaxing, rejuvenating and special place we have ever stayed! And the staff here is always so nice and helpful. We look forward to spending many more anniversaries here." Roy & Marsha of Yellville, Arkansas
"Everything happens for a reason. My husband and I came to Eureka for my birthday. Our highlight of the trip was staying in the Loft. We tried other hotels but they were full so I said let's try those cabins. Everything happens for a reason – "Thanks for being full other hotels." We absolutely loved our stay and will be back soon for a longer stay." Dana and Brent of Bartlesville, OK
"Very comfortable visit. We had a very comfortable stay in the Loft. We were here for Mini Cooper weekend and every night we gathered around the fire pit with people from our club as well as other people staying here, visiting and getting to know each other. Then we would come back to our heart-shaped jetted tub for a nice soak." Carol and Sean of Mineola, TX
"Wont stay anywhere else than the Tall Pines Inn Eureka Springs! My husband and I have enjoyed our second stay in the Loft for our 4th anniversary. We won't stay anywhere else in Eureka. The Loft is so neat and clean, and sitting outside under the tall pines is so peaceful. The weather has been perfect and we have enjoyed the pool several times. The room is so cozy, we couldn't have asked for a better getaway. We will be back!" Jessica and Brian of Dardanelle, AR
Read more reviews at TripAdvisor.com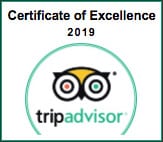 Tall Pines Inn is rated a 5.0 out of 5.0 for location, cleanliness, service, and value, plus we've been awarded the TripAdvisor Certificate of Excellence! Read more reviews at TripAdvisor.com