We'll help you with a great trip AND we'll do the cooking!
Now you can customize your stay and request our Build Your Stay packages that are tailored just for you. Enjoy the convenience of dining right here on site, from breakfast to snack trays. Tall Pines Inn has customized services and packages that allow you to add on only what you want and need for your Eureka Springs getaway.
Add Deliciousness to your stay!
You now have the ability to customize your stay. Options that can be added:
Take-out style Breakfast by Chef Keith Frey – Menu is Chef selected and varies daily.
Dinner will be available in the near future!
Package for any occasion – Choose special occasion packages at time of booking or preview them on our specials page.
Option for Snack trays in your unit when you arrive.
Give us a call to add this to your reservation or book online and add the Build Your Stay to your reservation!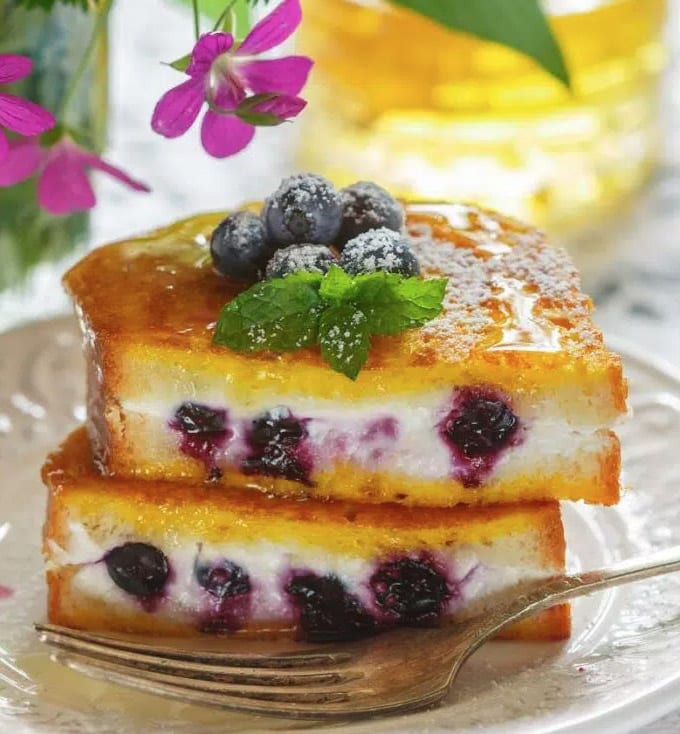 ---
Breakfast
We will start by serving breakfast only, and eventually add dinner.
You will have the option to add breakfast along with your room reservation or add breakfast A La Carte, even at the time of check-in.
Breakfast can be ordered up to 4 PM the day prior to your breakfast.
Breakfast is served 8:30 – 9:30 AM daily.
How is the meal served
Meal is served boxed and take-out. Trust us we have a hard time getting the entire meal in one box!!
Our kitchen is located on the north end of our laundry building, just west of Cabin #6, next to the Smoke House.
We have a serving window where you can stop by and pick up your breakfast, eating utensils, and a free cup of coffee.
What's On the Menu (Our food is primarily grilled or barbecued)
The menu will be posted in each cabin's Guest Directory and in our office. * Guest's Favorite is Saturday Mornings' 2 slices of hardy Challah bread grilled Crème Brûlée French Toast!
We alternate between a sweet dish one day and a savory dish the next.
All of our breakfasts are served with Roasted Seasoned Savory diced Potatoes, Homemade seasoned grilled Pork Sausage, grilled toast/English Muffin (unless French Toast is served), and in-season fruit cup with crème fraîche and mint.
Sample Menu
Crème Brûlée French Toast
Hot Buttered Rum French Toast
Fruit Stuffed (Blueberry, Strawberry, Cream cheese, etc.) French Toast
Frittata (egg bake) – Egg, bacon/ham/sausage, veggies (varies)
Skillet Hash – Diced potatoes, Sausage, and Veggies with a poached egg served on top
Biscuits and Homemade smoked Pork sausage gravy.
All dishes served with a Fruit Cup, meat side and grilled toast.
---
Snack Trays
You now have the option to order a delicious healthy snack tray to greet you in-room upon arrival.
Charcuterie Board: 2 types of cured meats, 4 types of hard and soft cheeses, jam/spreads, olives, 2 types of crackers.
Fresh Smoked Veggie Bowl with Dip: Mix of carrot sticks, broccoli and cauliflower flowerets, red bell pepper slices, and zucchini and squash rounds; all tossed together and sprayed lightly with Duck Fat then smoked lightly on the grill, and served up in a bowl with a chipotle dipping sauce.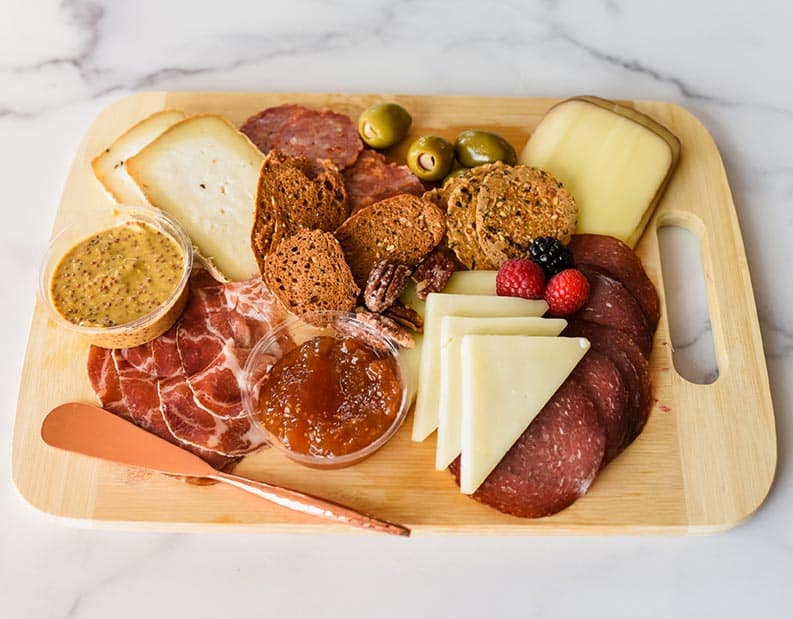 ---
Currently we are only serving breakfast and snack trays, stay tuned as dinner offerings are on the way!
Meals must be ordered by 4:00 PM the day before and are not refundable at that point.
Your meal is picked up from our kitchen take-out window. Meals are served Take-Out Style in a carry out box with plastic cutlery and napkin.
Please note that our meals may contain allergens. Contact us if you have a concern about food sensitivities to see if we can accommodate your meal.
If your large group is staying with us and you need a meal catered, we can provide a BBQ meal served buffet style in our outdoor common areas. Contact us for details and pricing.