Tall Pines Inn, Providing Eureka Springs Lodging Since 1947
Your hosts, Keith & Michelle Frey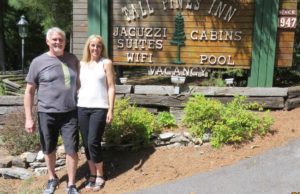 Keith and Michelle moved from Minnesota in 2018 to buy the Tall Pines Inn. They chose Eureka Springs because of its natural beauty, an abundance of outdoor activities, and excellent dining options, especially for such a small town. The Tall Pines was the perfect fit for them with its vintage cabins and rustic ambiance, nestled in a wooded setting.
Many ask, "So did you do this type of work before"? Actually no! Keith is a Mechanical Engineer, with a Masters in Software Engineering. Michelle has BS and Doctorate degrees in Pharmacy. Once their three children left home they felt it was time to leave corporate life and the city. It was time to dig out their passions gleaned from being raised in North Dakota farming communities; Keith is from Minot, ND and Michelle from Rolla, ND.
Michelle and Keith (and Dunkin the dog!) look forward to meeting you and promise to make every effort to ensure that your stay at the Tall Pines Inn is as relaxing or as active as you desire. We are not beyond catching an evening at the fire pit, or sharing some lively conversation. Every guest that comes through the Tall Pines entrance enriches the culture and beauty of this wonderful property.
Raising their own family of two boys and a girl, they have lived for several years in Seattle, WA, Fargo, ND, and St. Paul, MN. Keith's hobbies and passions include: DIY, construction, BBQ cooking/sauce, rub making/BBQ class, and German beer & steins. Michelle's hobbies and passions include: gardening, DIY projects, choir, music, decorating, and cooking (spoiling their kids).
History of Tall Pines Inn
The Tall Pines Inn has been in operation as an Inn since 1947. It is listed on the National Register of Historic Places and has been in business continuously under the name of Tall Pines. World War II saw travelers looking for the simple lifestyle of small towns. Better transportation and improvement of the roads made it easier for travelers to visit these small towns. Travelers interested in American nostalgia left the cities and traveled to the interesting countryside communities. Eureka Springs was one of these communities that benefited from these curious travelers looking for and enjoying the nostalgia of these towns. The travel into Eureka Springs continues today and is present into the twenty-first century.
Philip and Alice Nordquist, Edna Deiley (daughter), and Donna Ann (granddaughter) moved from Chicago, Illinois, to Eureka Springs to build Tall Pines in 1947. At the time the home was constructed, Philip Nordquist was seventy years old, Alice was fifty-eight, and Edna was thirty-nine. The main log home, built as the central home, had six rental cabins in a quarter-circle facing the owners' residence. The cabins and home were constructed of round pine logs with saddle-notched corners, chinked with concrete and built on concrete foundations. Outside lights of glass behind metal cut-out evergreens were hung on each building and are still in use today.
The owner's residence was a traditional house type found in the Ozarks: a dogtrot house, also known as a hallway or double house, consisting of two separate cabins that are joined by a gable roof stretched over an open, central, floored hall between them; the separate rooms are entered from a central hallway that was used as a breezeway functioning as an important source as airflow in the days before air conditioning. In the main lodge, Alice and Philip lived on one side, and Edna and Donna Ann lived on the opposite side, with the breezeway between the two sides.
The breezeway was closed off from the other two units in the mid-1950s, and the lodge structure operates as three separate rental units. Later, porches were built onto the log homes, and additional rental units were added to match the property's original log cabin style. Tall Pines Inn has grown to a total of fourteen cabins that house a total of twenty-one units available for rent.
January 1999, the first seven log structures that were initially constructed for the property, were inducted into the "National Register of Historic Places."
Keith and Michelle Frey became the inn's tenth owners in 2018. They strive to preserve the Tall Pines' historic nature while providing all the modern comfort and convenience expected by today's travelers.