Book Direct means book with us at Tall Pines Inn, either on our convenient website or a simple phone call. You may wonder why book with our property when you can search multiple websites for the best prices. Ah, but is it really the best price when your trip is over, and you receive the final bill? Take a look at the advantages of booking directly with the property and pitfalls of using on-line travel agencies.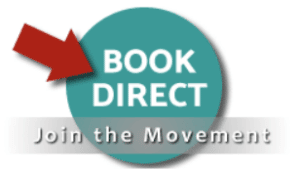 Misconceptions about using On-line Travel Agent (OTA) Companies
I get a better price when I use an on-line travel agent like Expedia or Airbnb
It's more convenient to book with the on-line travel agents.
I belong to a rewards club and need to book through my choice agent.
I like to book on-line and bed & breakfasts don't have websites.
I can cancel anytime and get 100% of my money back.
On-Line Travel Agents (OTAs)
Online travel agencies (OTAs) are massive companies who like to give the impression that they can find you the lowest price because they are so big, but is that true? These huge companies don't care about mom and dad Jones and their son and daughter; they care about turning a profit. Small family-owned properties bend over backward to win your loyalty because you are what sustains the company. Family-owned small lodging businesses will often provide many perks and amenities you would not otherwise access. Compare the fine print, and you will find just who saves you the most money.

Why Book Direct with the Property
You usually are guaranteed the lowest price available. You don't pay fees and commissions.
You work directly with the property Innkeeper in cases of travel delays, changes, or cancellation of trip plans.
You typically will not pay added booking, change, or cancellation charges.
It's easier to talk to the same person who knows the property.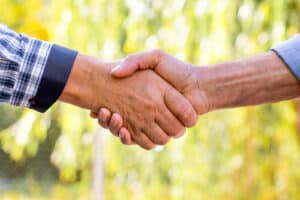 When you go directly to a property's website, you will get the most detailed current information and pictures about that property. Browsing a site from a Travel Agent will allow you to see the information the property decided to place on an external site.
Advantages to booking direct with the property:
The booking calendar for a property is the most complete when you view it from a property's website. It's possible to miss out on the best rooms because Innkeepers may not place all of the property's rooms on the travel agent's booking calendar.
The Innkeeper may reserve popular dates or rooms on the booking calendar for their book direct guests.
The property may offer last-minute deals, specials, or packages for their book direct guest. You may lose out on these perks if the travel agent does not cover them.
The Innkeeper of the property is in a position to serve you best. They can assist you with your reservation, greet you at check-in, help you enjoy your stay, and answer your questions. Who do you choose to do business with? Is it the anonymous travel agent in an unknown location who does no more work than answer a phone and charge fees, or is it the welcoming Innkeeper who specializes in hospitality?
Booking On-line Can Be Confusing: The Knowledge Panel
Take a look at what you see when you type the property name into the computer search bar.
Let's use Tall Pines Inn as an example:
After typing in the business name "Tall Pines Inn", you will get the results of your search, which typically brings up a box of information about the particular business, in this case, Tall Pines Inn. Google has created this box of information known as a Knowledge Panel for each company. This box, or Knowledge Panel, is the source of much confusion. Guests looking to book a room will often assume that the blue box "CHECK AVAILABILITY" is coming directly from the property; however, this is not the case. This "check availability" has been built for the convenience of the Online Travel Agents. Clicking on this blue box will direct you to the website of a variety of OTAs where you can compare "their" competing prices.
Above this "check availability" box, you will also see that there are four gray boxes, purposefully left a bit obscure. The gray boxes under the picture are "WEBSITE," "DIRECTIONS," "SAVE," and "CALL" and directs you to specific information about the property. Clicking on "WEBSITE" here will direct you to the properties official website and book direct.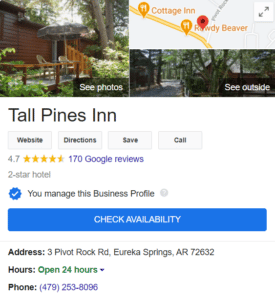 Accountability
A transaction is straight-forward when it is between the guest and the hotel exclusively. Introducing a third party (OTA), or middle person, the transaction can get messy. No one likes to be bounced between two parties and get only half a story.
For example, sometimes reservations are not processed correctly, and the OTA and the hotel can pass the blame back and forth. This confusion can potentially leave a guest with the wrong room or no room at all. A guest in this situation will find they have little hope for recourse. Eliminating this middle person can eliminate confusion.
More Flexibility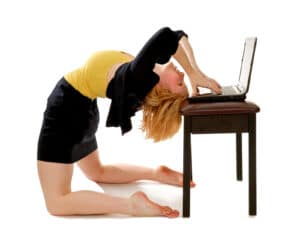 Booking directly with the property means that the owner can work with you to adjust your reservation. The property owner will have limited flexibility if you book through an OTA. Bound to the contract terms with the OTA, the property owner has little wiggle room to make adjustments.
The property owner is powerless to change some OTA contract items, such as cancellations, gift certificates, late fees, etc… The property owner may not receive payment until days after the check-out, preventing a prompt refund if you need to cancel your reservation suddenly. When you book direct with the property, the owner can do more to compensate for a reservation change because they are not bound to the terms and conditions of an OTA.
Prefer Online Booking
Online booking is no longer unique to the OTAs. Software company applications for small lodging have come a long way in ease of use, mobile-friendly, and seamless between the property website and reservations. If you are someone who does all of your business online, you will find booking directly with many properties convenient, and it is unnecessary to work exclusively with OTAs. Many small lodging even provide guest loyalty programs and points for booking with them.
Support Small Business and Book Direct
Small hospitality and lodging are typically family businesses with a vested interest in knowing you are a satisfied customer. Small lodging, including Tall Pines Inn, wishes to have you back as a returning guest. The OTA's have so many customers that you are a lost figure in a massive pool of numbers. Book direct and support small business.
As a consumer, take time to understand who you are doing business with and read the fine print. You may find that a great deal is not such a good deal after all. Call your property before you book anything and get the details.
BOOK DIRECT!