Motorcycle lodging in Eureka Springs is your basic lodging, and then there is Tall Pines Inn motorcycle lodging and hospitality. You might ask what makes motorcycle lodging at The Pines special for Bikers. Many ads in the area make it sound like there are 3-4 good spots for bikes to park and riders to get a good night's rest. However, we know that many of you come to Eureka Springs for more than the ride and more than a comfortable bed. Many of you are looking for much more when you roll into town; find it when you BOOK DIRECT with Tall Pines Inn.

Private Gathering Spaces for Camaraderie
Seriously, is your idea of a night out sitting in a lawn chair in a parking lot the idea of a peaceful gathering? We think that it is more akin to circling around a toasty fire pit with a group of friends under tall Loblolly Pines telling stories of the days' ventures. Never heard of Loblollies? Check this out! You might even choose to gather at our Black Bear Cabin with a couple of cheesy pizzas and enjoy the large porch with a couple of new friends from next door. At Tall Pines we have four fire pit gathering spaces and every cabin and suite has it's own porch. At each porch you'll find tables, chairs and umbrellas. We have a covered vending area with a soft drink machine and ice machine.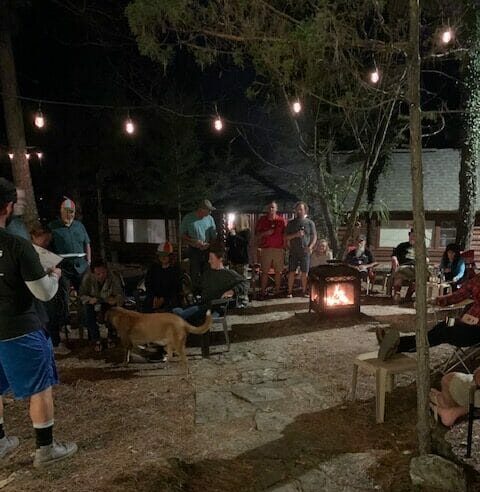 Be sure to stop by our Gift Shop and take a t-shirt or coozie home with you as a souvenir of your stay with us!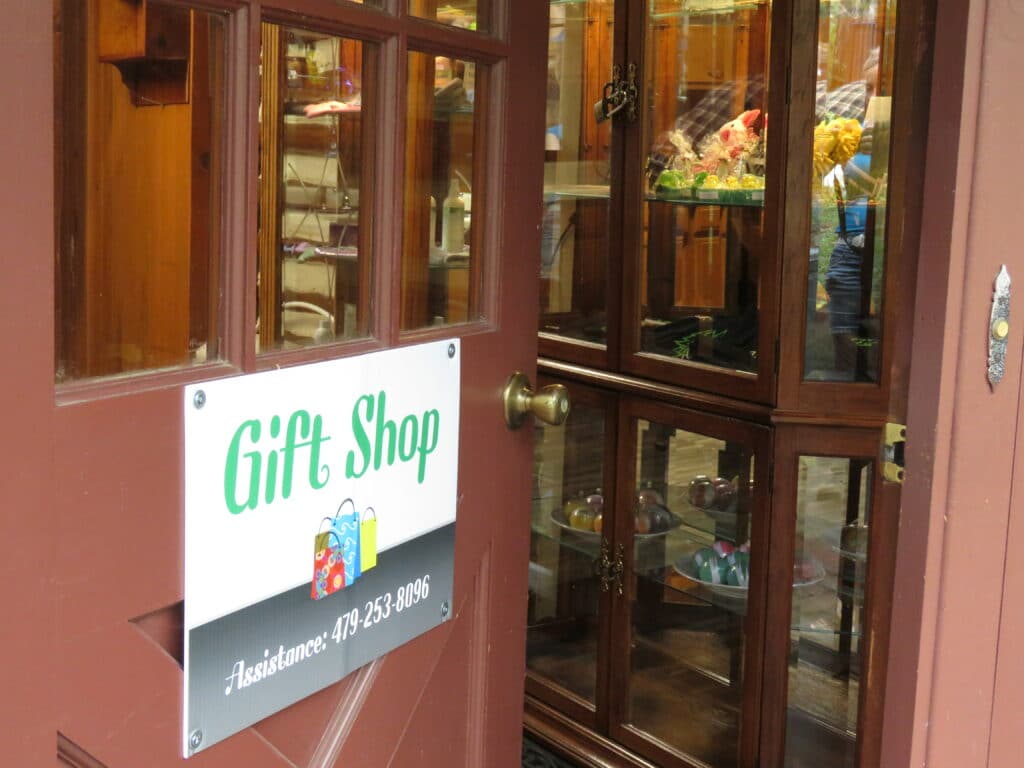 Great Spaces at Reasonable Rates
Is Tall Pines Inn worth the price? When you ride, you don't want to pack heavy, and staying at Tall Pines Inn, we provide everything you need for a weekend stay. Comparing our rates with the bargain hotels, we feel you will find our rates very competitive, and with the amenities, we save you from packing, you are free to pack more items you really want to bring along. Top packing tips for a Bikers in 2022.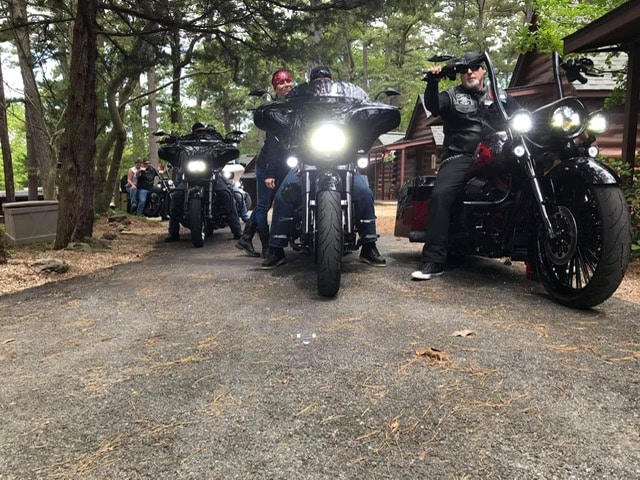 Food on Site
Tall Pines Inn now has Guest Food Service that can be ordered as an add-on to your reservation. We are currently only offering Breakfast, but we will be adding Dinner later in 2022. As a guest of Tall Pines, you will be able to grab that first bite of the day without taking your bike into town. Until our Dinner service is available, we are within walking distance to the Rowdy Beaver Restaurant and Tavern. If you book a large group on our property we can offer the option of catering a barbecue buffet meal for your party, call for details and prices.
Lots of Extras
What is it that you need when you stay away from home? The answer may be very simple until it comes to the day, and then you might need a cooler for ice, a lot of fresh ice, an extra chair at your porch, shampoo, hot cocoa, a toothbrush, lots of firewood; what about a grill because the fresh steaks looked amazing at the local grocery store, like Harts or Walmart! Tall Pines Inn provides all of the above and much more. We provide everything you would want for a comfortable, accommodating stay away from home. Staying at The Pines, you will find a full line of luxury bath amenities and plush bath towels and robes. You don't need to sacrifice pampering in order to enjoy rustic surroundings or sit in a lawn chair in a parking lot in order to gather with friends, and we have it all in one.
Yes We Have Parking
Flat, firm, and spacious! That describes the parking you can expect for your bikes at Tall Pines Inn. Here you drive off straight from the asphalt of the highway onto the serenity of our peaceful property. You park next to your cabin or suite, where you can have direct access to your bike. There is also room for two bikes without any additional charge. In most cases, we can accommodate those bringing in trailers.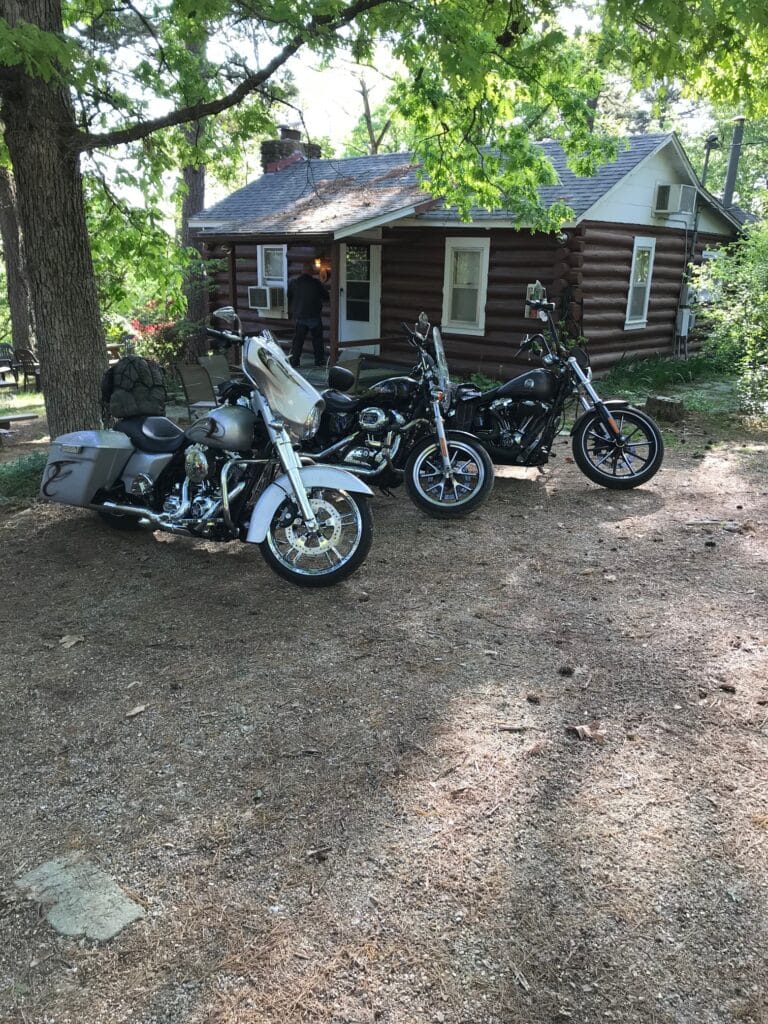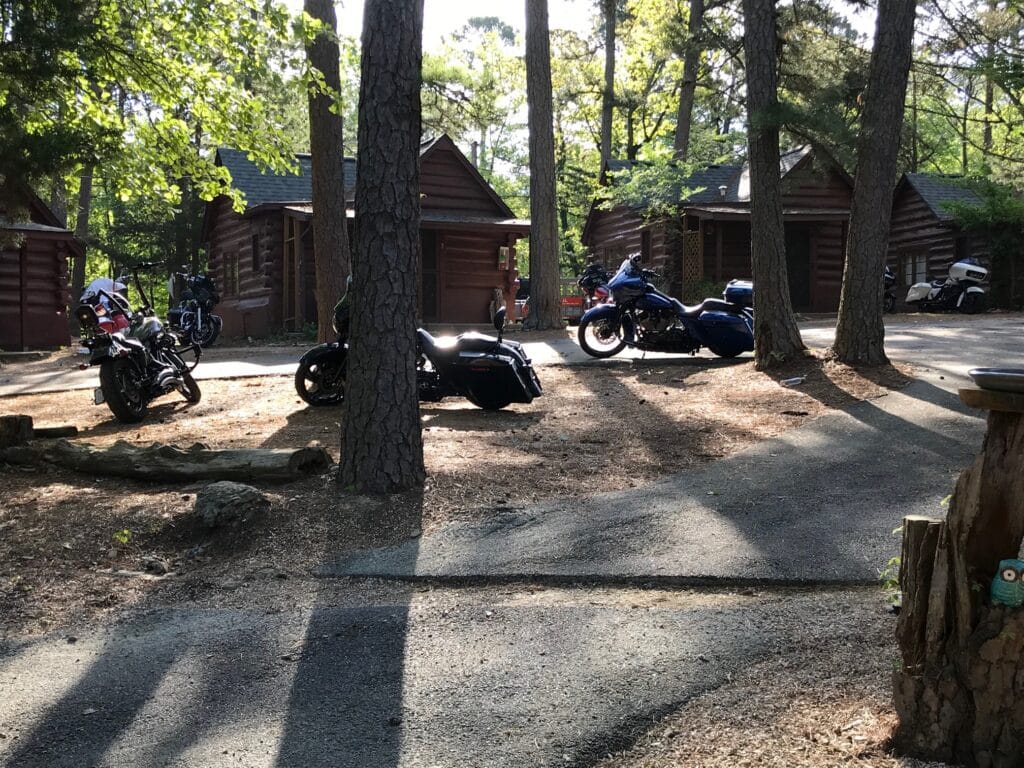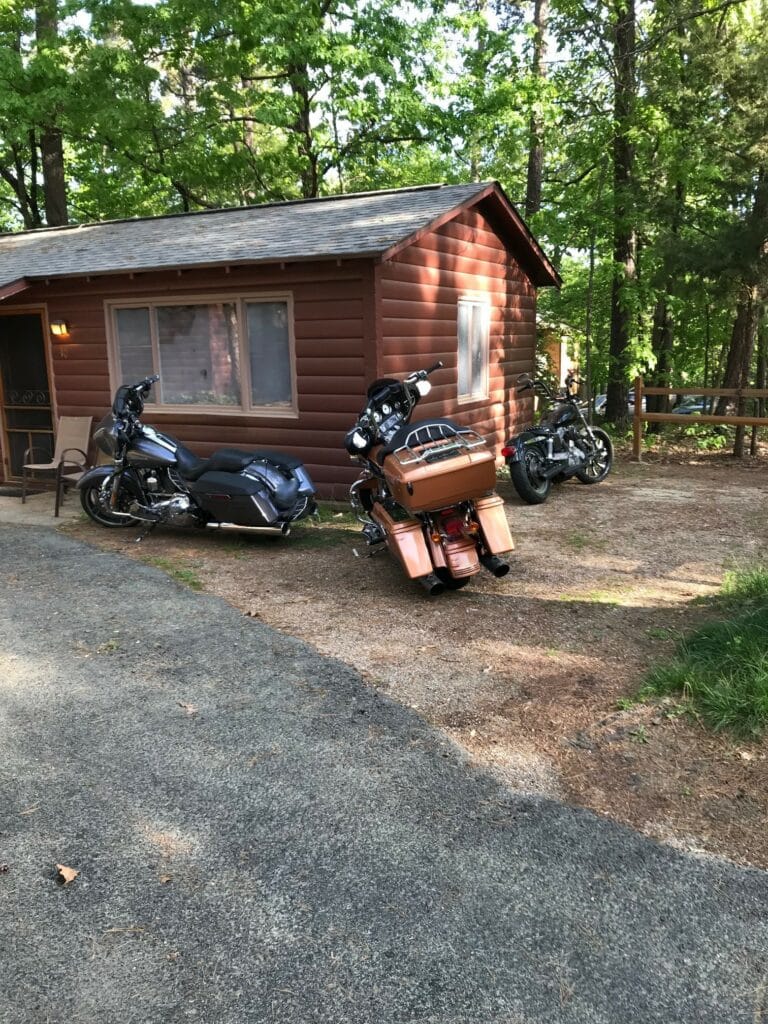 Pamper the Ride
We love your ride as much as we love you. In several areas of our property you will find Bike towels for your use during your stay. Feel free to grab a handful of clean towels from our designated totes to wipe down your bike and simply toss the dirty towels in the provided bucket. During times of inclement weather we have tarps and some canopies for large groups of bikes.