Any time of year is the right time for a Rustic Wedding, and Tall Pines is the perfect venue. You may ask yourself if a rustic wedding is what you are looking for, or you may think you want rustic but have no idea where to turn. Read through the following information and look at some pictures of our weddings. At Tall Pines Inn, we believe we capture simple, beautiful, meaningful, and "YES" Rustic. Your Rustic Wedding at Tall Pines Inn awaits.
What is a Rustic Wedding
Anything rustic is slightly rough around the edges, "so to speak", a wedding included. This type of wedding means you don't have to drag out the crystal and fine china, and many Brides these busy days find this a relief, check this out for lots of ideas! Brides may take the rustic wedding theme and incorporate vintage decor' in their theme. Perfect settings for a Rustic Wedding are barns and farm backdrops or forests with lush foliage as the background.
Are Rustic Weddings in Style
A Rustic Wedding at Tall Pines Inn is always in style. As the price of weddings is steadily increasing, the taste of couples is becoming increasingly more simple, and couples are trending towards marrying at later ages and Rustic Weddings are becoming more popular. They are a simple organic feel to the more extravagant version of the traditional wedding. A Rustic Wedding also lends well to Elopements which are also on the rise, with couples looking to save money and non-first marriages. It is said that a Rustic Wedding is a mindset more than a style, with that in mind read on!
Are Our Rustic Weddings Vintage or Shabby Chic
Rustic weddings indicate the place where they are held and the environmental feel, such as woodsy, outdoors, and green forest setting. It may also be a farm setting in or near a barn, typically outdoors. You might incorporate vintage or shabby chic items into your rustic wedding to bring in a mix of decor. However, Vintage is technically considered a time, and Shabby Chic is a style. As you can see, these are very different classifications.
What Colors Do We Use for Our Rustic Weddings
Rustic Weddings at Tall Pines Inn plays on colors found in nature or colors requested by the Bride. We perform our weddings under a beautiful handmade rustic arch made from wood used at one time for fencing around the property. We have repurposed these aged poles into a wedding arch, then we add lights and drapes in green, cream or blush hung over the arch, and flowers are added in coordinating colors to transform the arch into a beautiful wedding site.
Costs for Rustic Weddings at Tall Pines Inn
We have several options for Rustic Weddings at Tall Pines Inn. Our most popular wedding still remains, the elopements, but we also perform weddings of other sizes. We have wedding packages available to meet the needs of every couple.
***Over the Moon, Tie the Knot, Romeo & Juliet, Run Away With Me Packages***
(Packages are only offered for guests of Tall Pines Inn. We do not do weddings for other property guests.)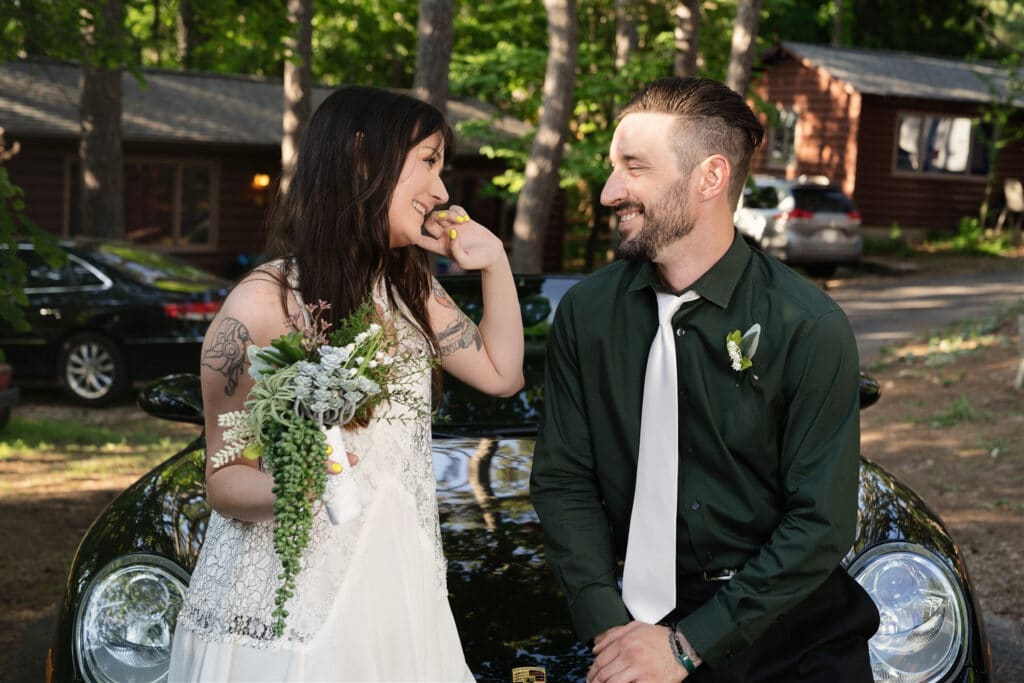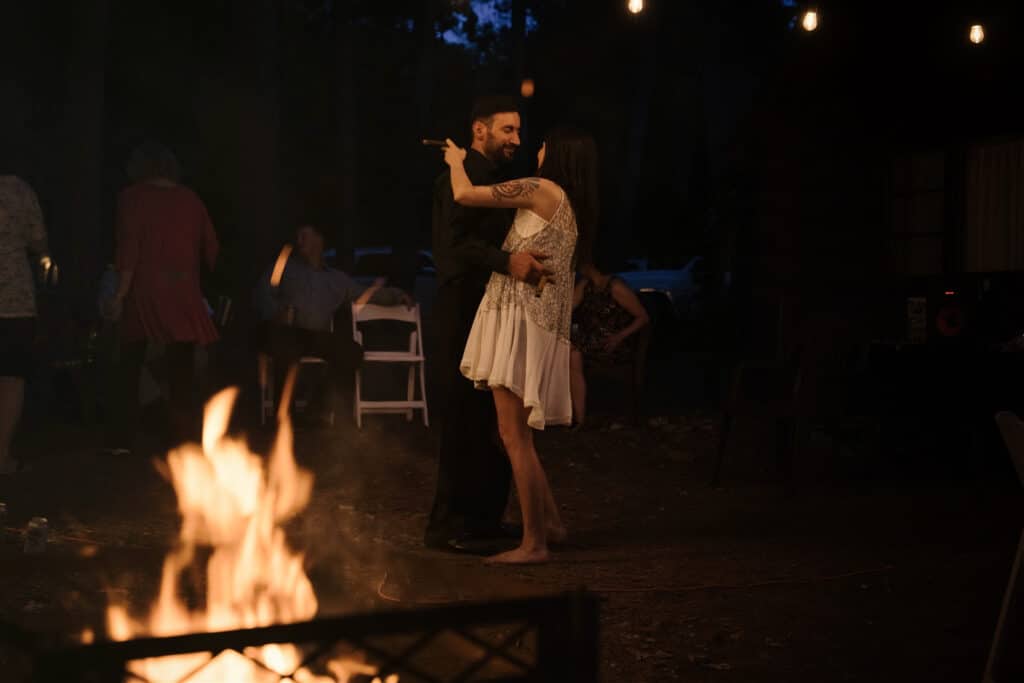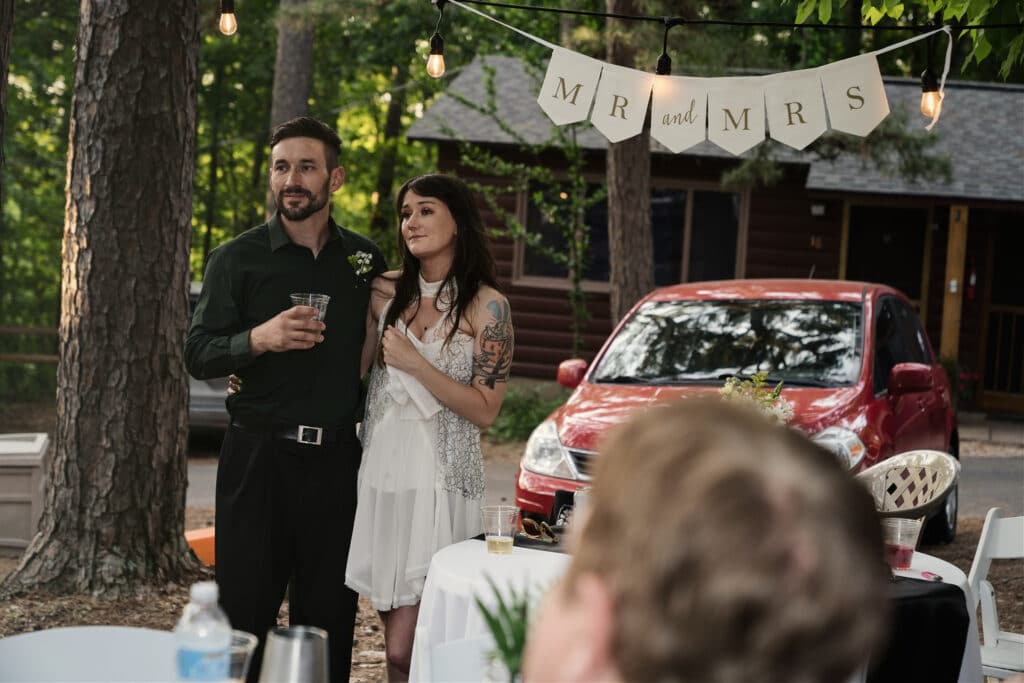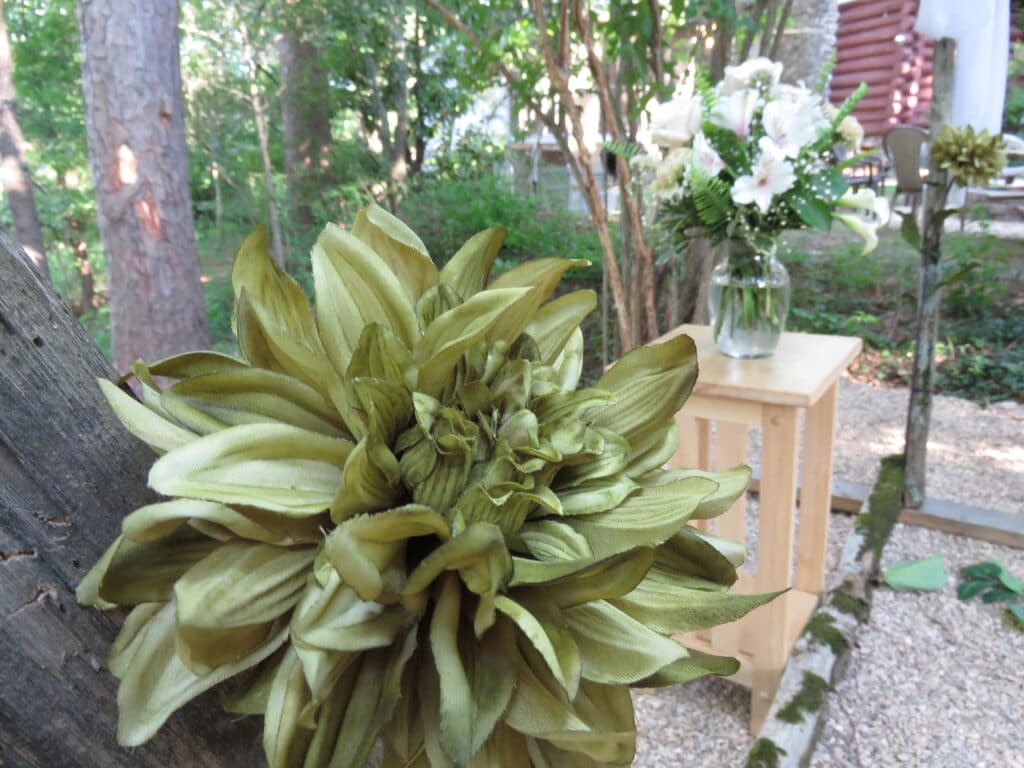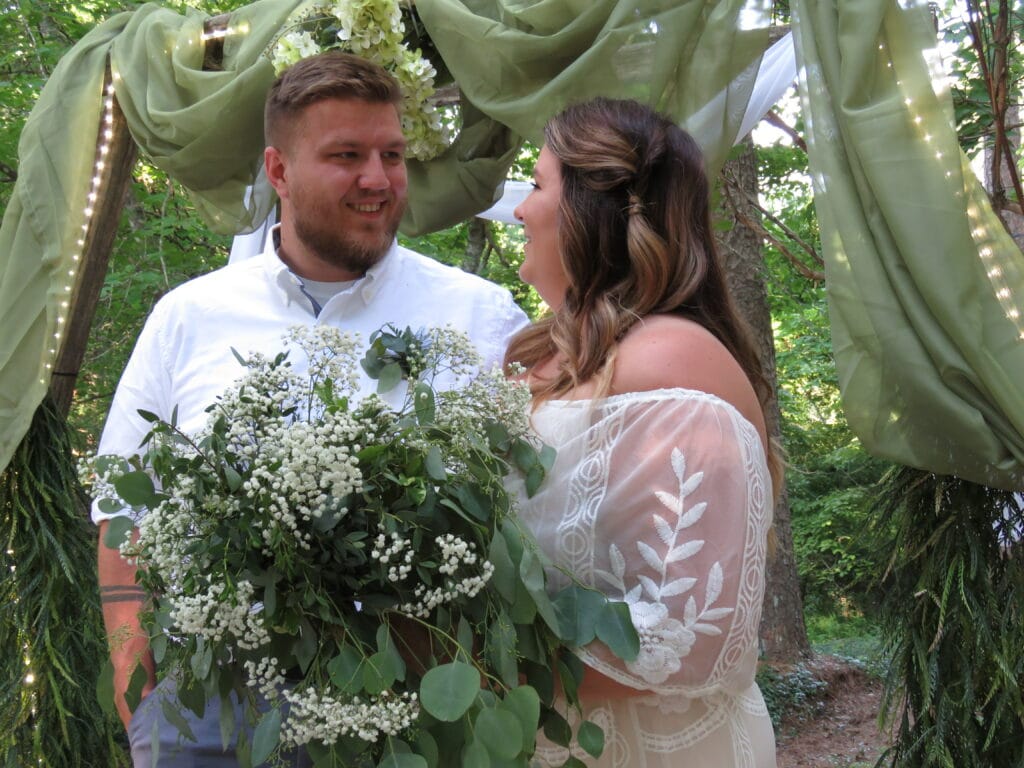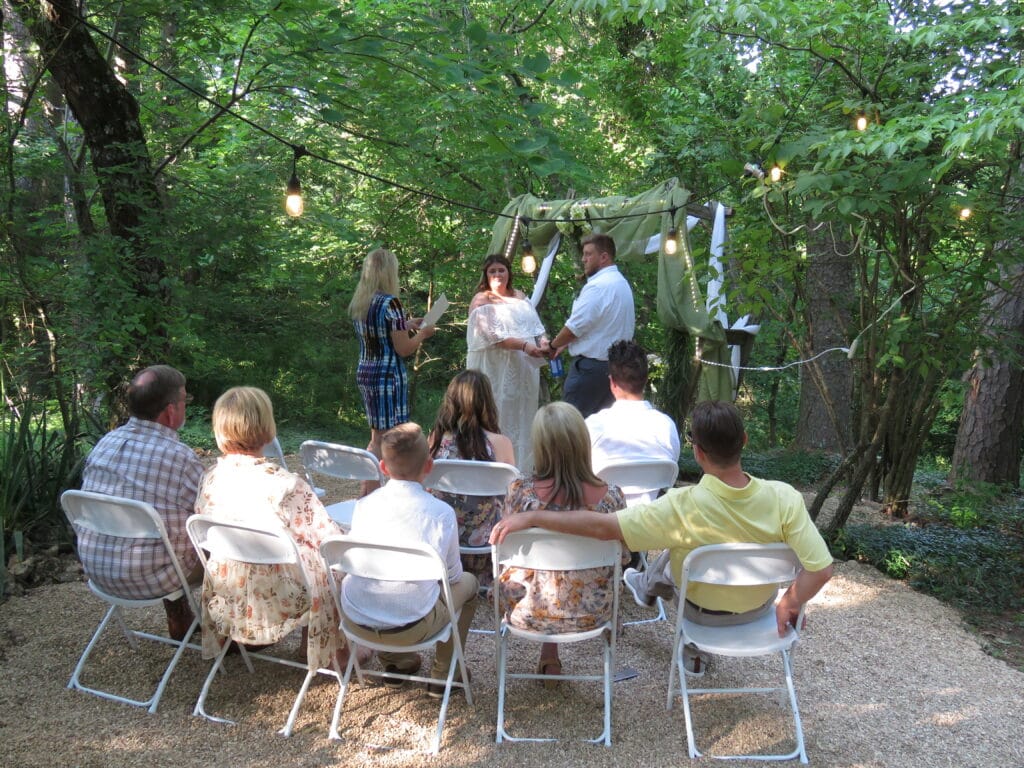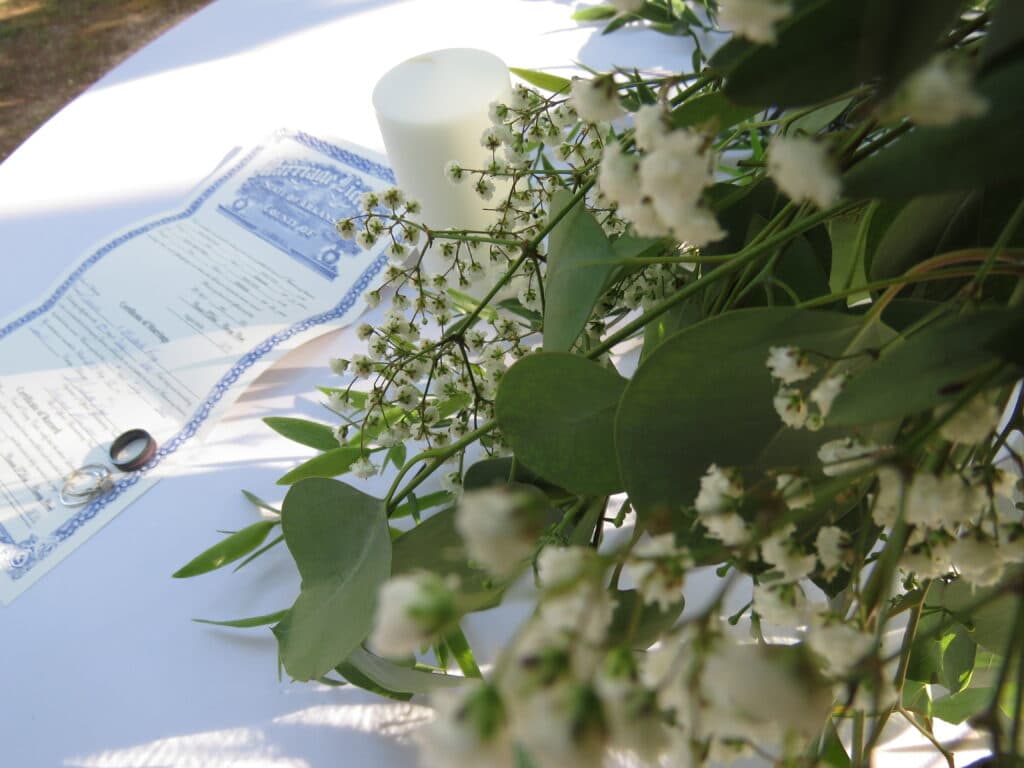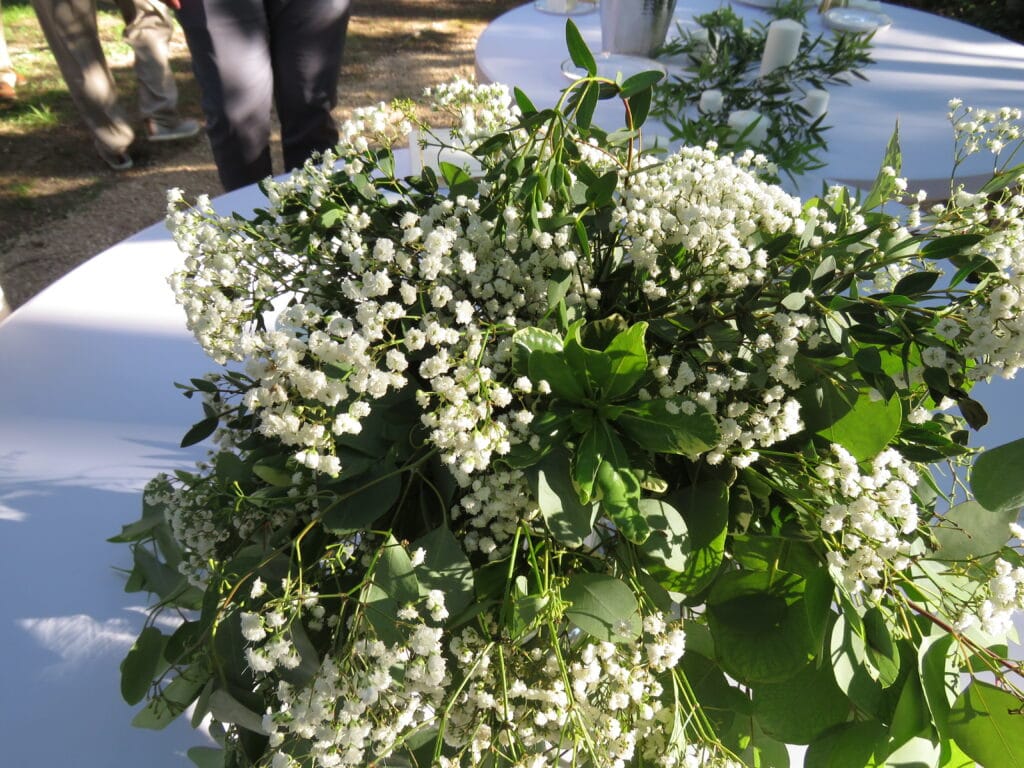 Ordained Minister
Wedding Cake (sized for wedding party)
Decorated rustic wedding arch – we will do our best to accommodate color/decoration request.
One large flower Arrangement
Photographer – we will take photos and provide them on a flash drive, or you may supply your own photographer.
A bottle of bubbly for the bridal party
An outdoor gathering area is designated for wedding ceremonies. We have ample outdoor gathering spaces to congregate with friends and family after the ceremony.
We can provide white round tables that seat 8 and white folding chairs per request. Decorating is responsibility of wedding party.
PLEASE NOTE: All celebrations in common gathering areas must be cleared out by 10:00PM and music turned OFF out of respect for our other guests.
Weddings can be held on the grounds or in a cabin. For inclement weather, location may be moved to your cabin or canvas cabanas can be provided.
NOTE: room stay is NOT included in any of our wedding package pricing.
Price is based on the package you choose. You may opt to delete one or all of the above included items with the wedding packages but it will not change the price of the package.
Over the Moon
$500 available May-October
Small outdoor ceremony for bride, groom and 6 guests. Also includes items in list above.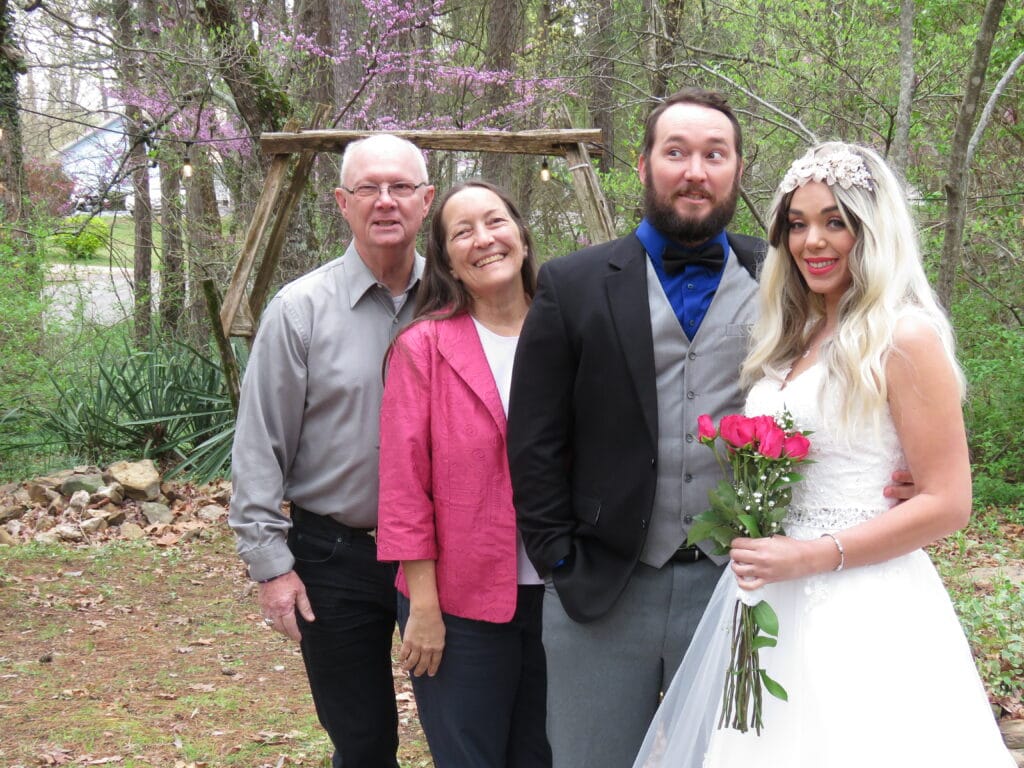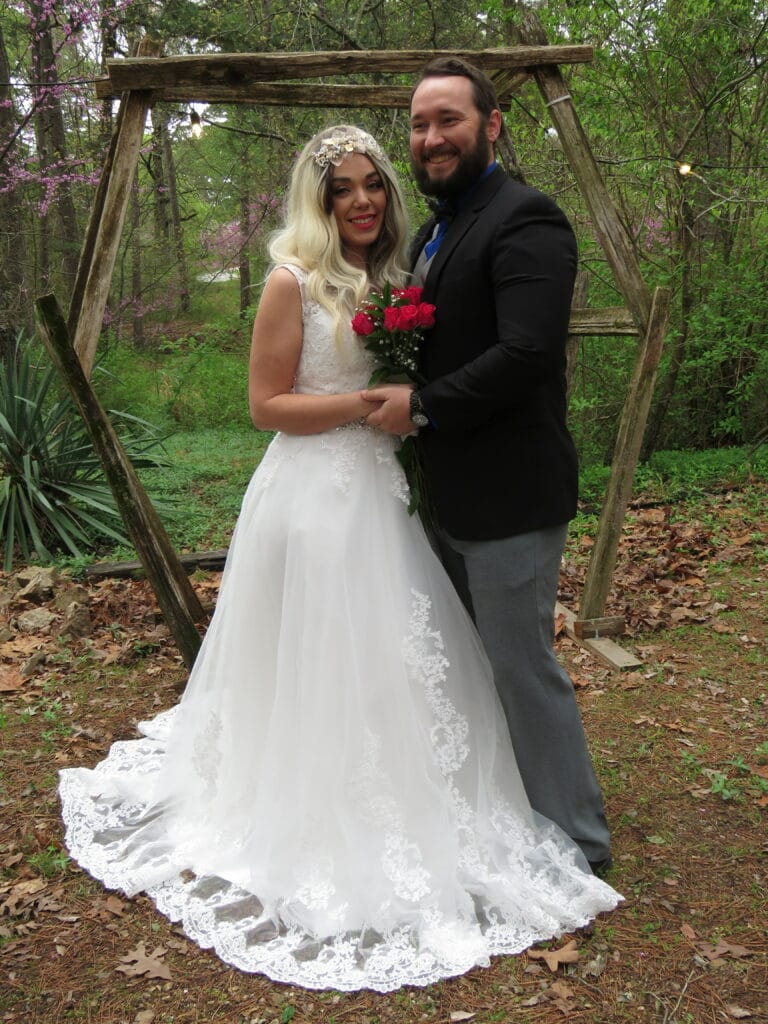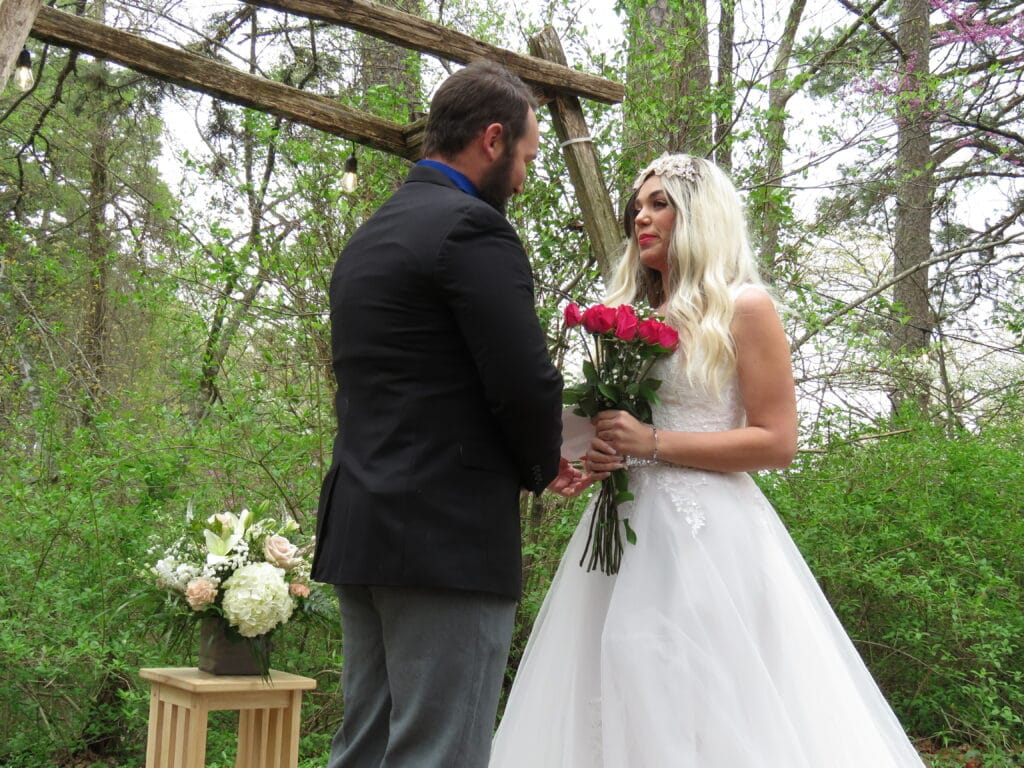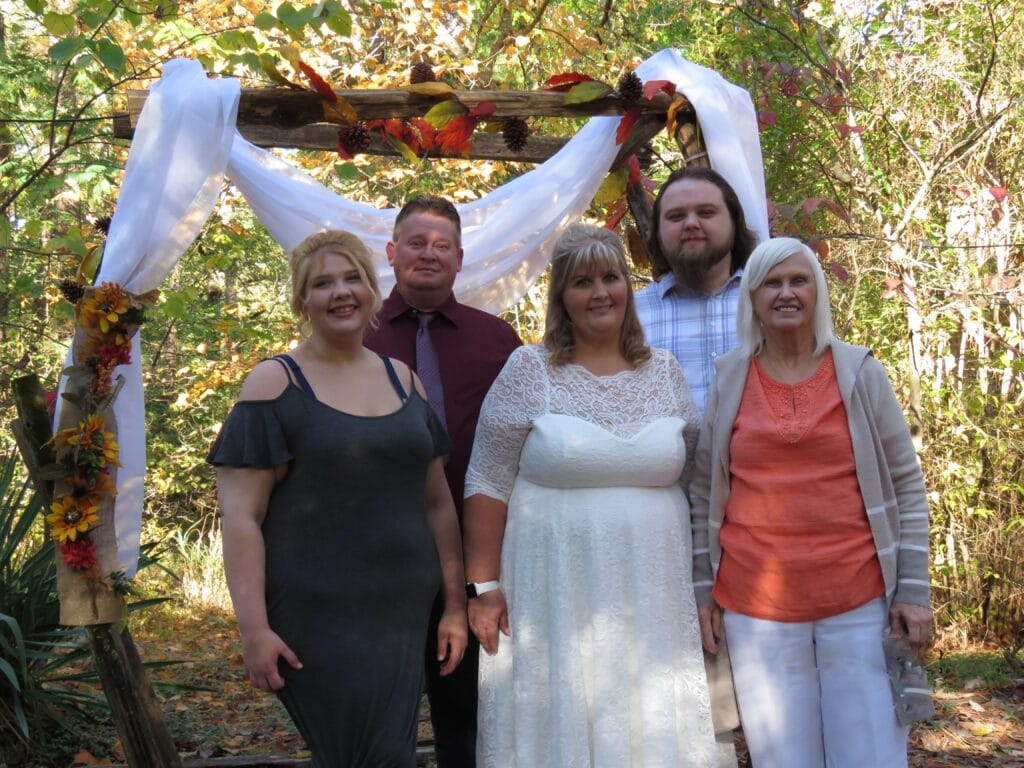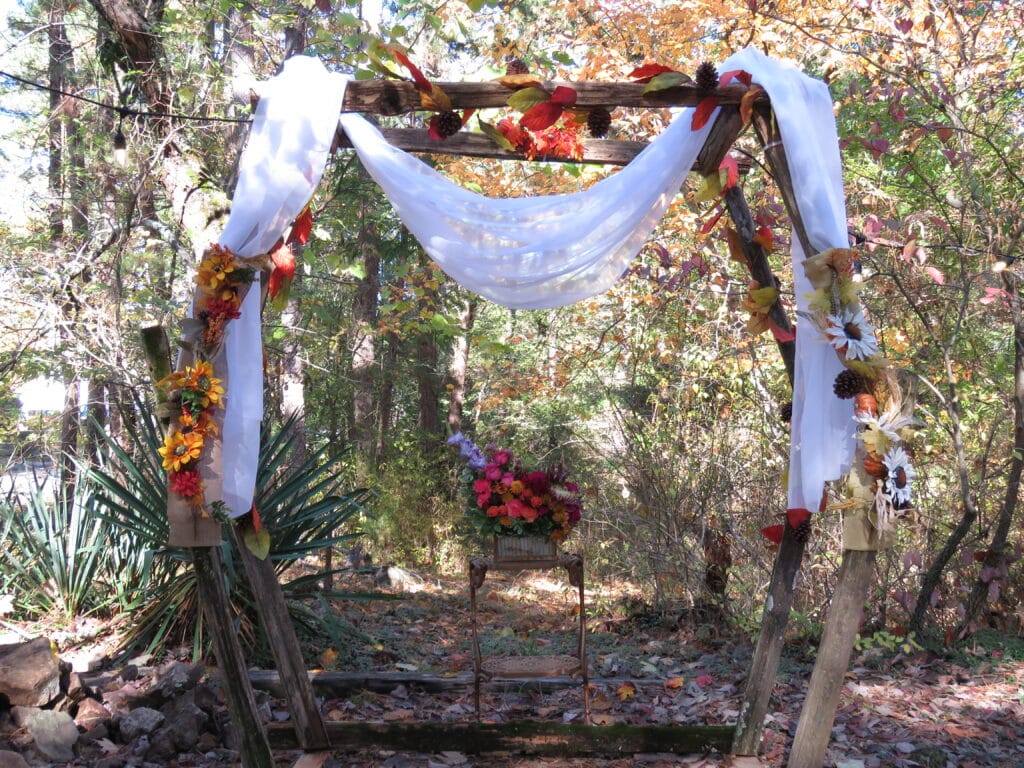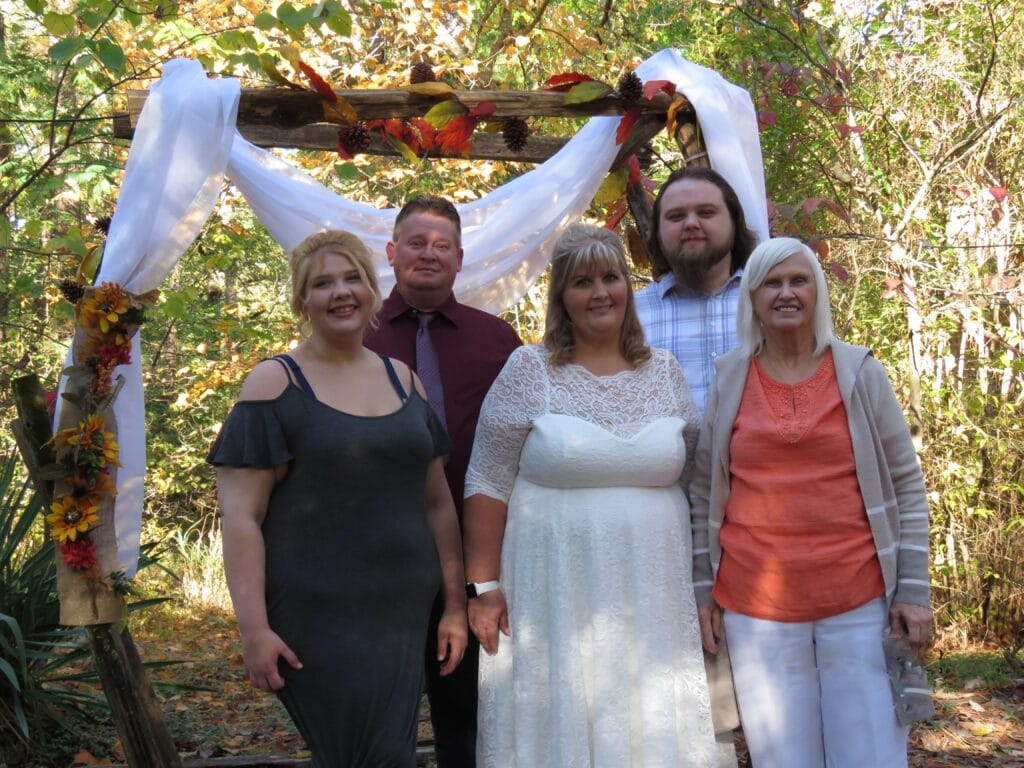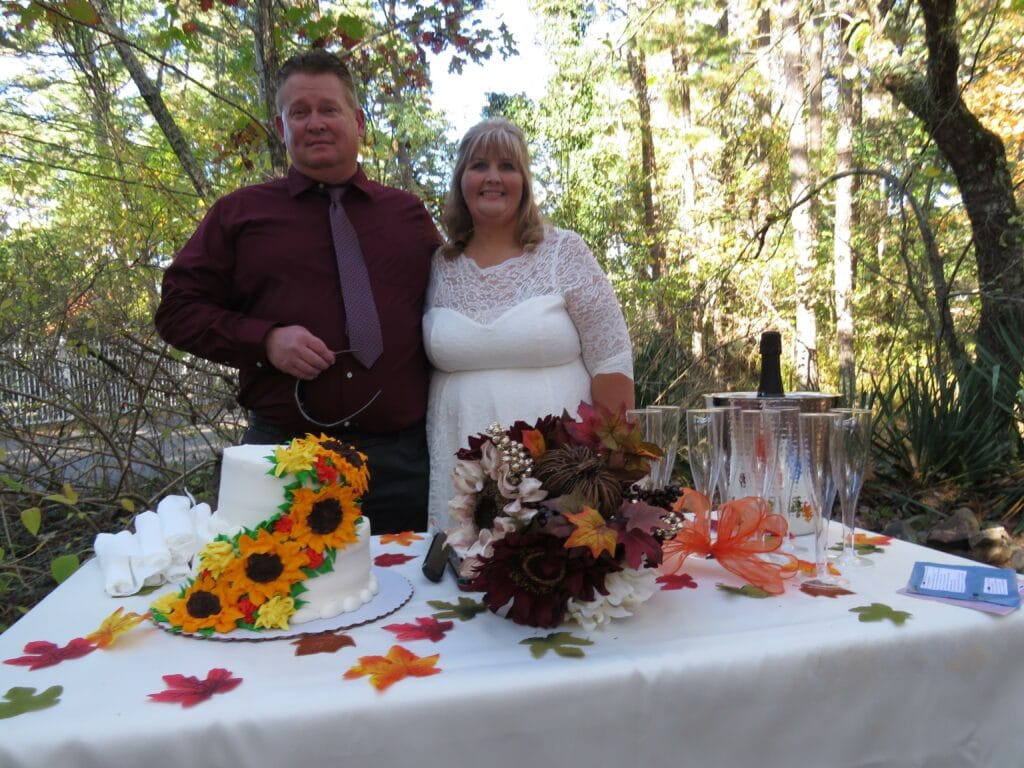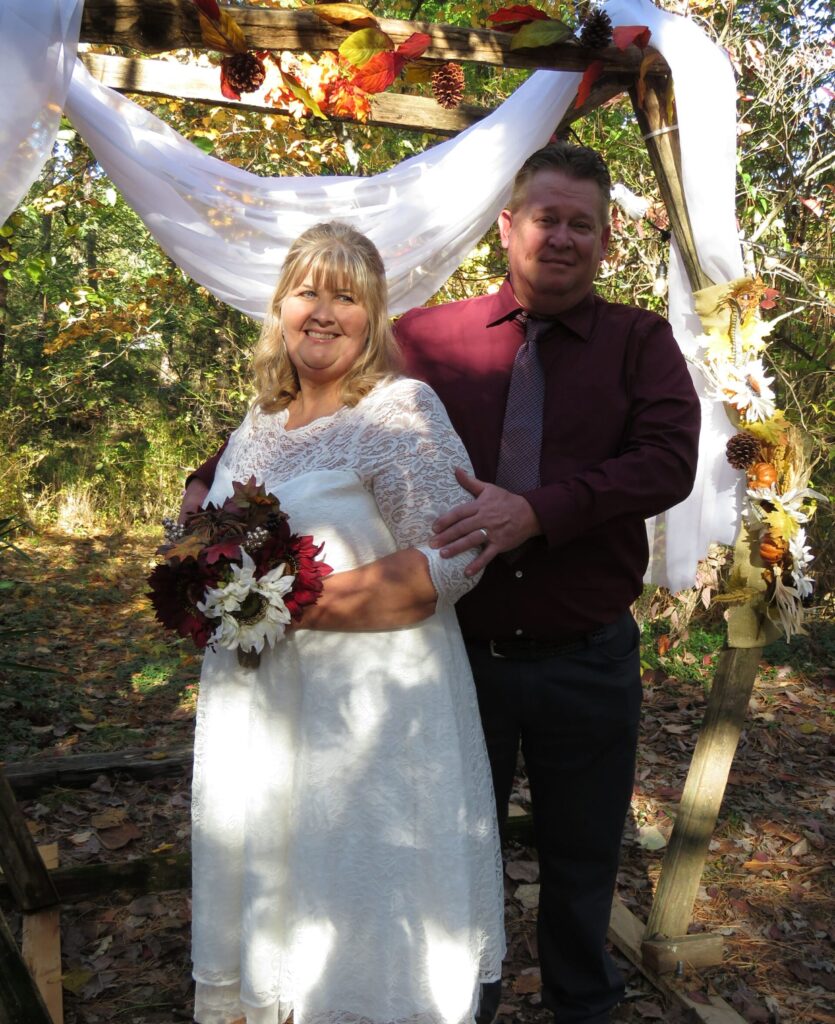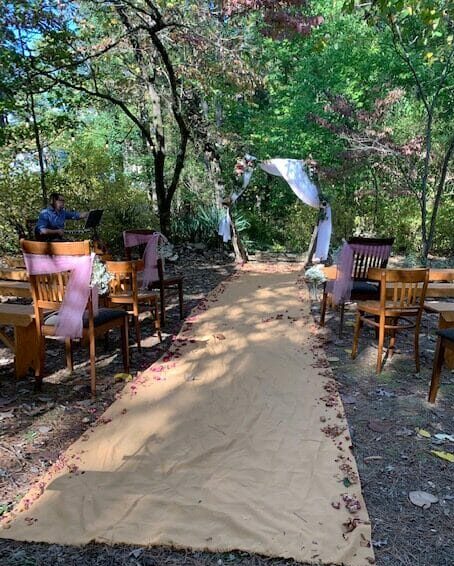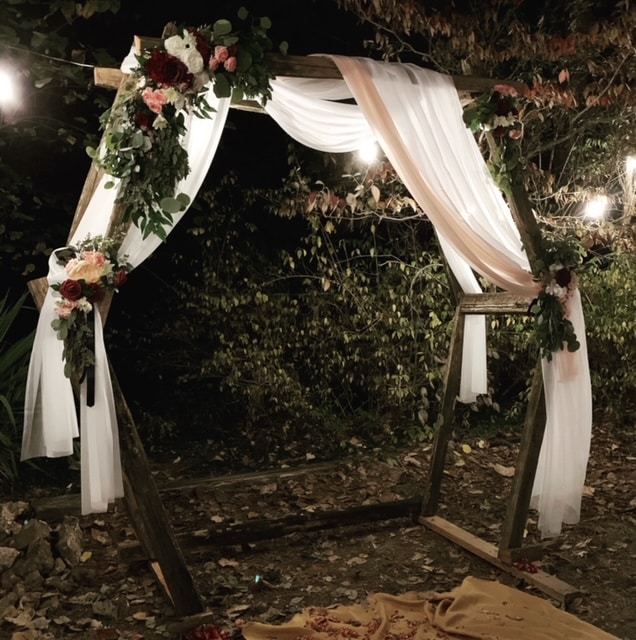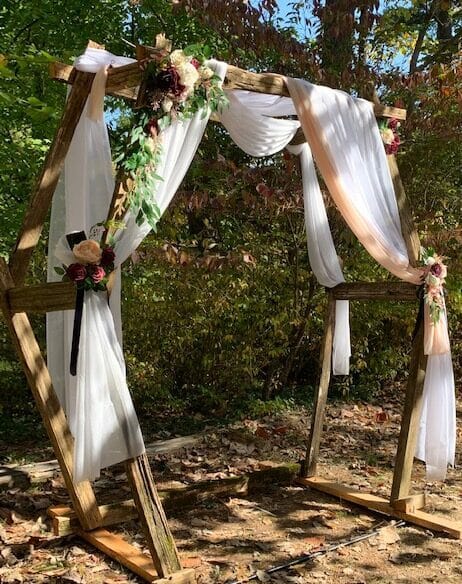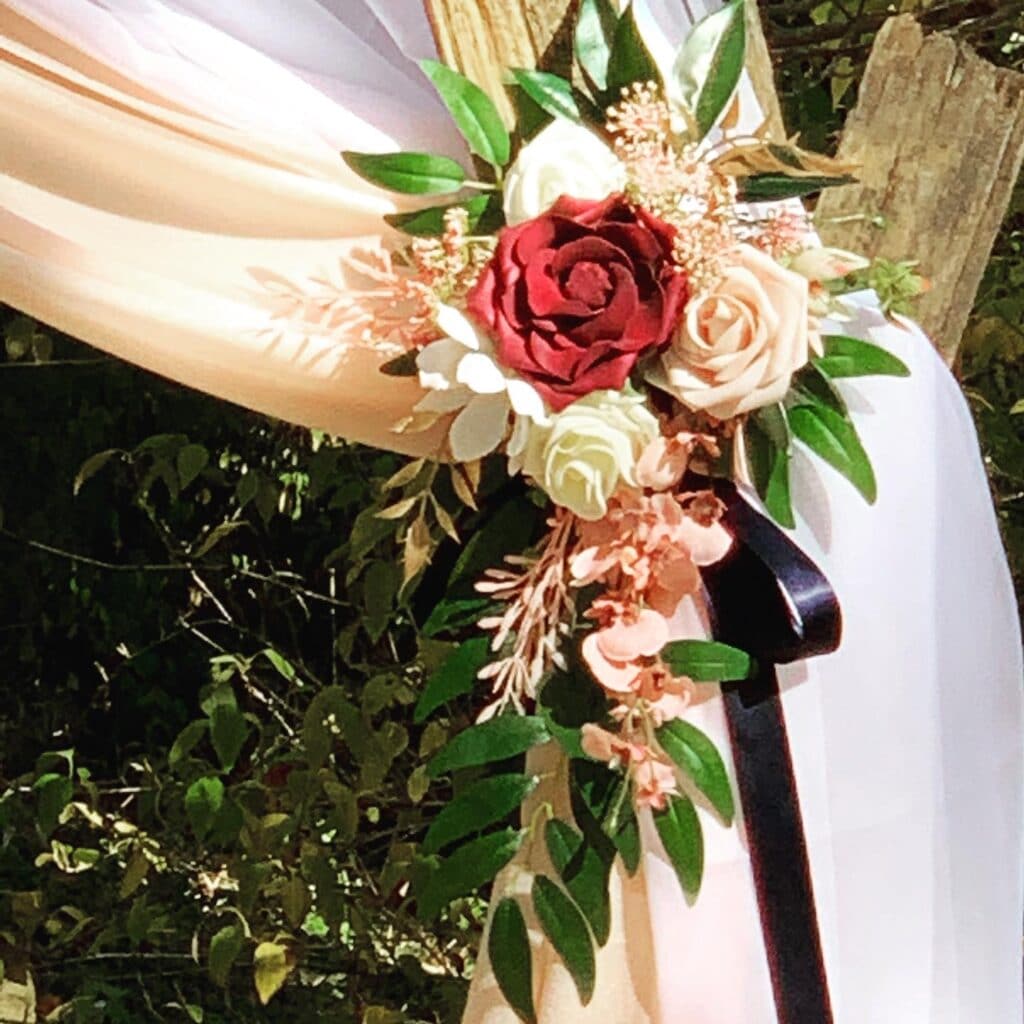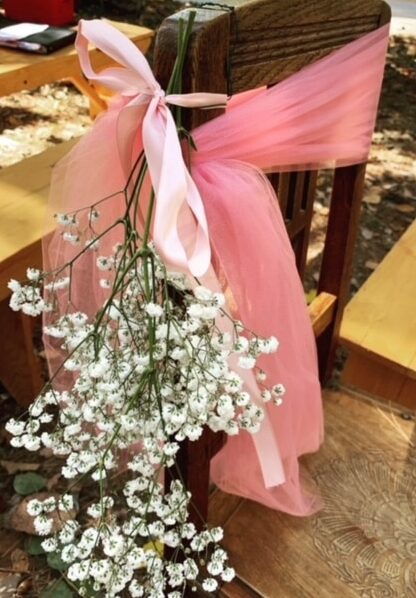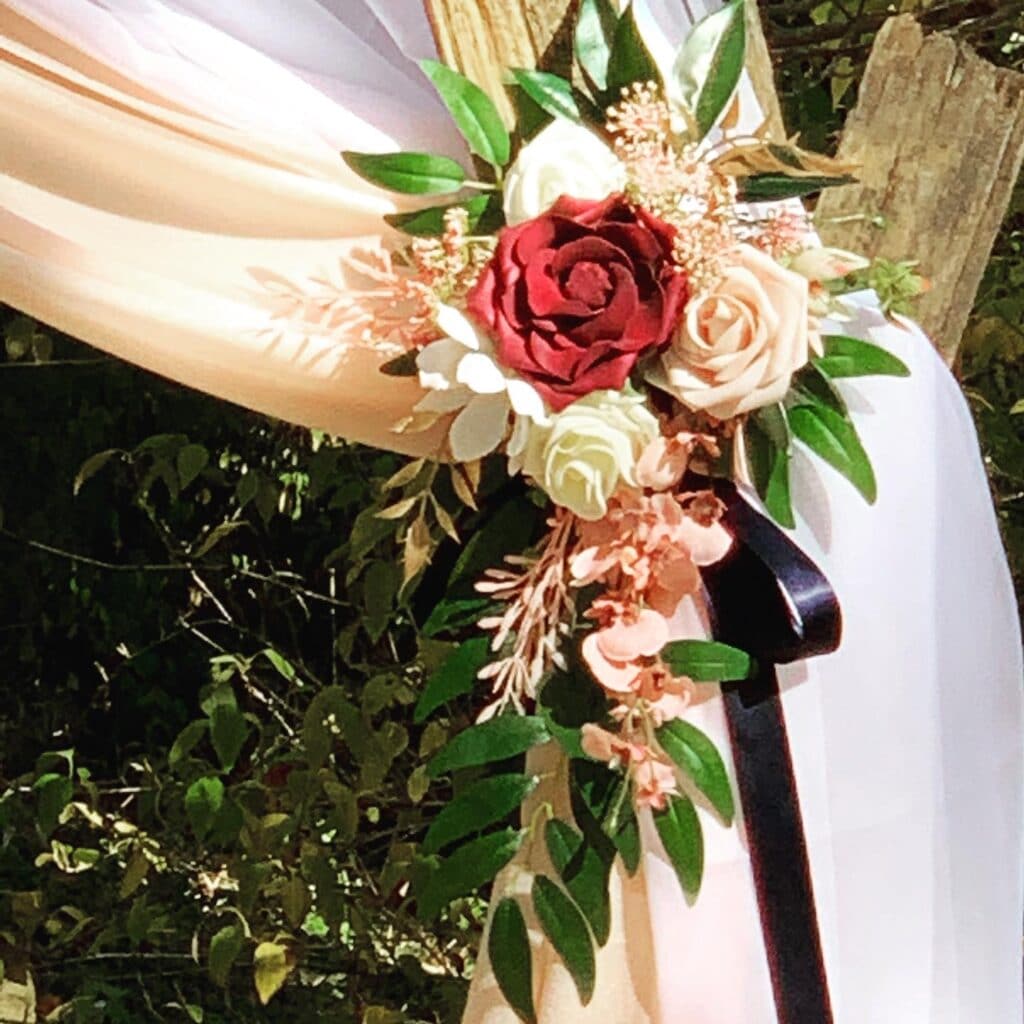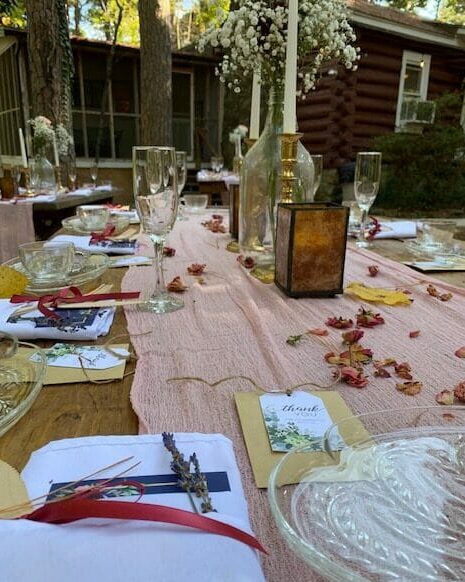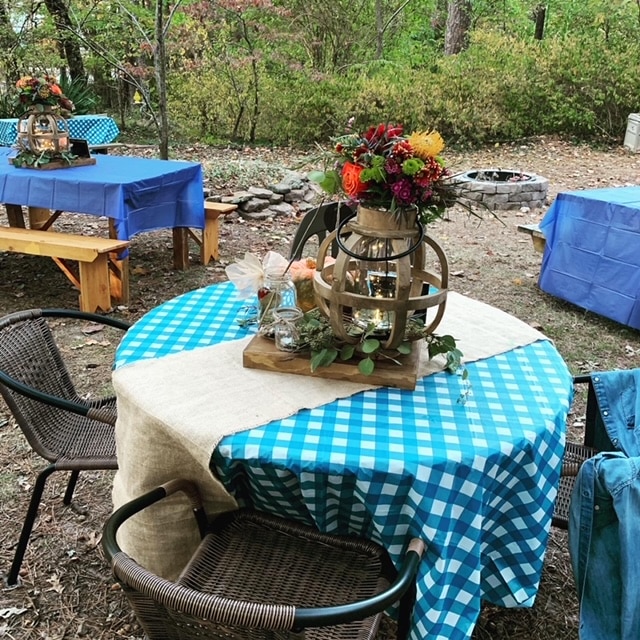 Tie the Knot
$400 Year Round
Small indoor or outdoor ceremony for bride, groom and 2 guests. Also includes items in list above.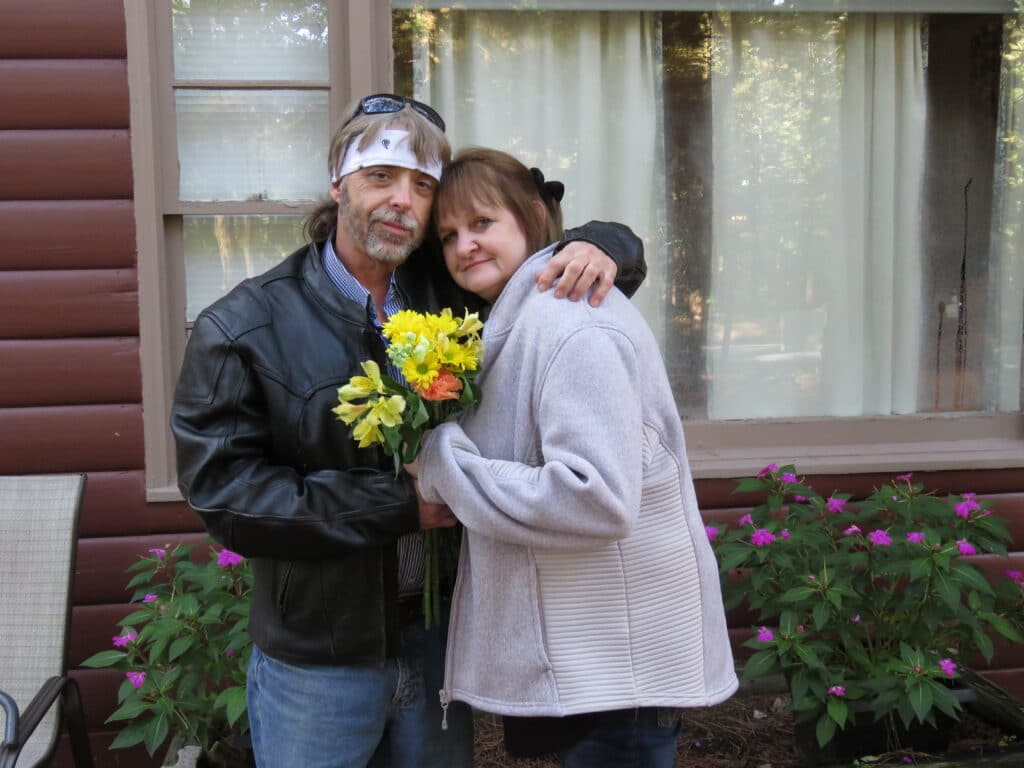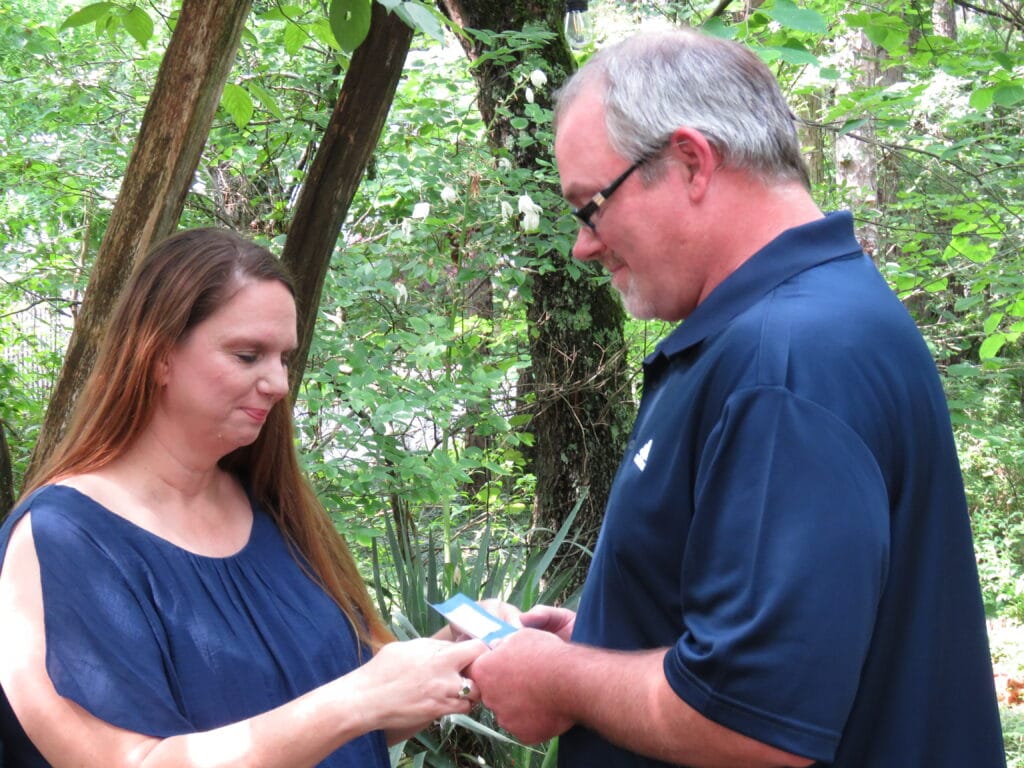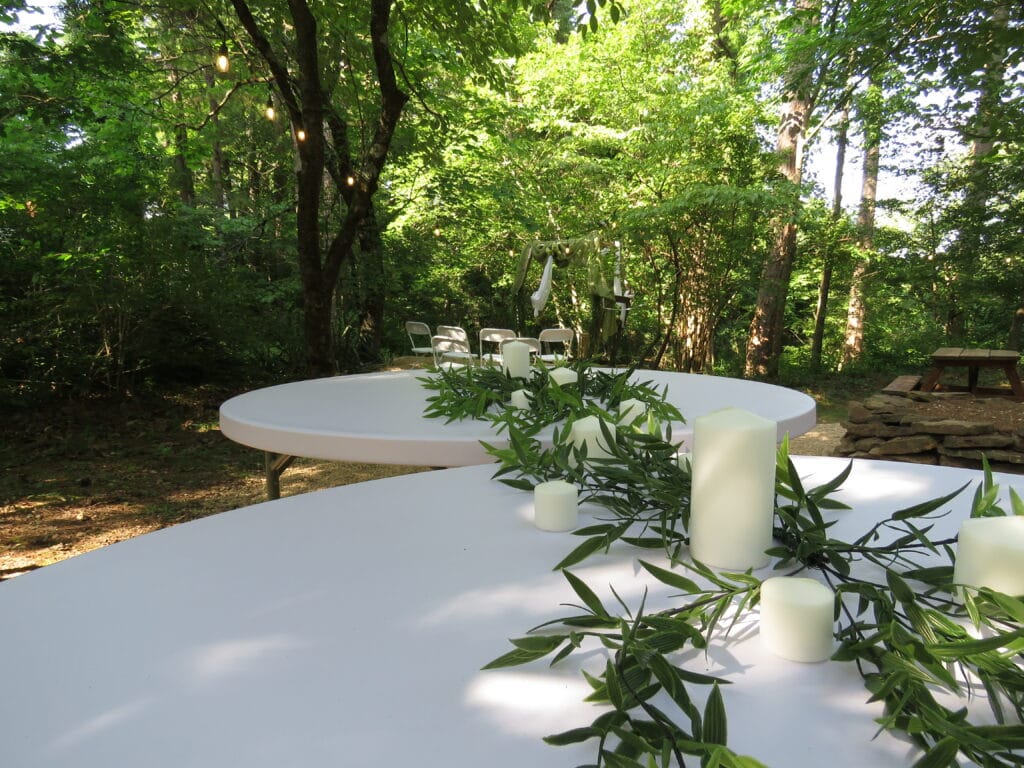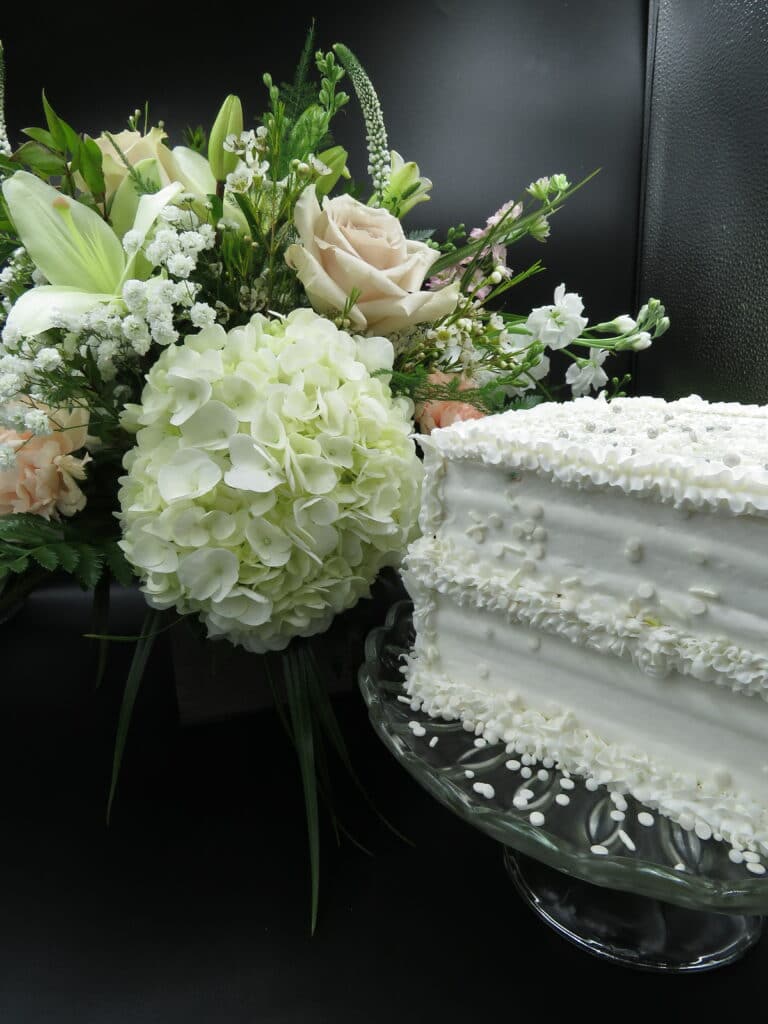 Romeo & Juliet
$300 Year Round
A small elopement for just the bride & groom. Also includes items in list above.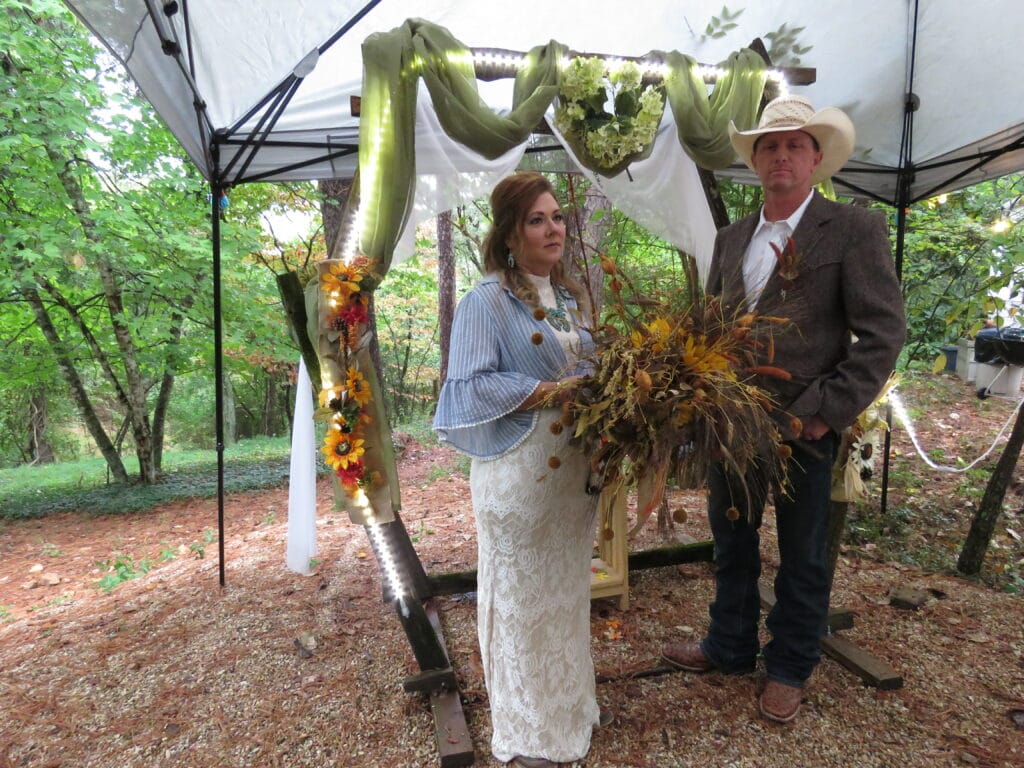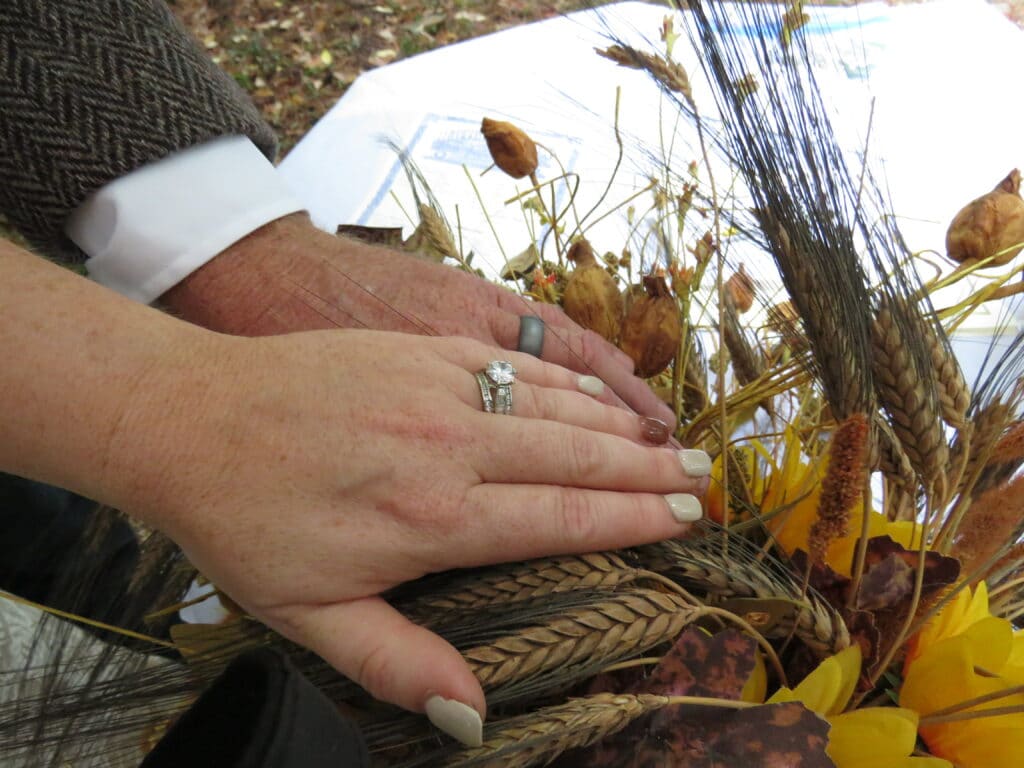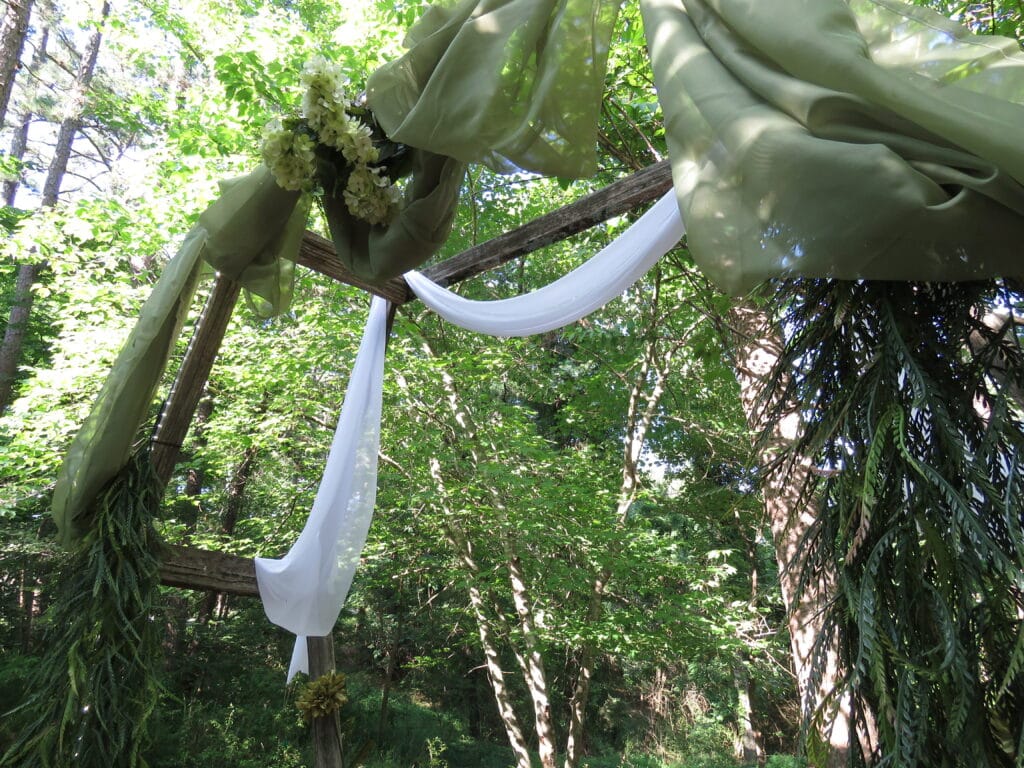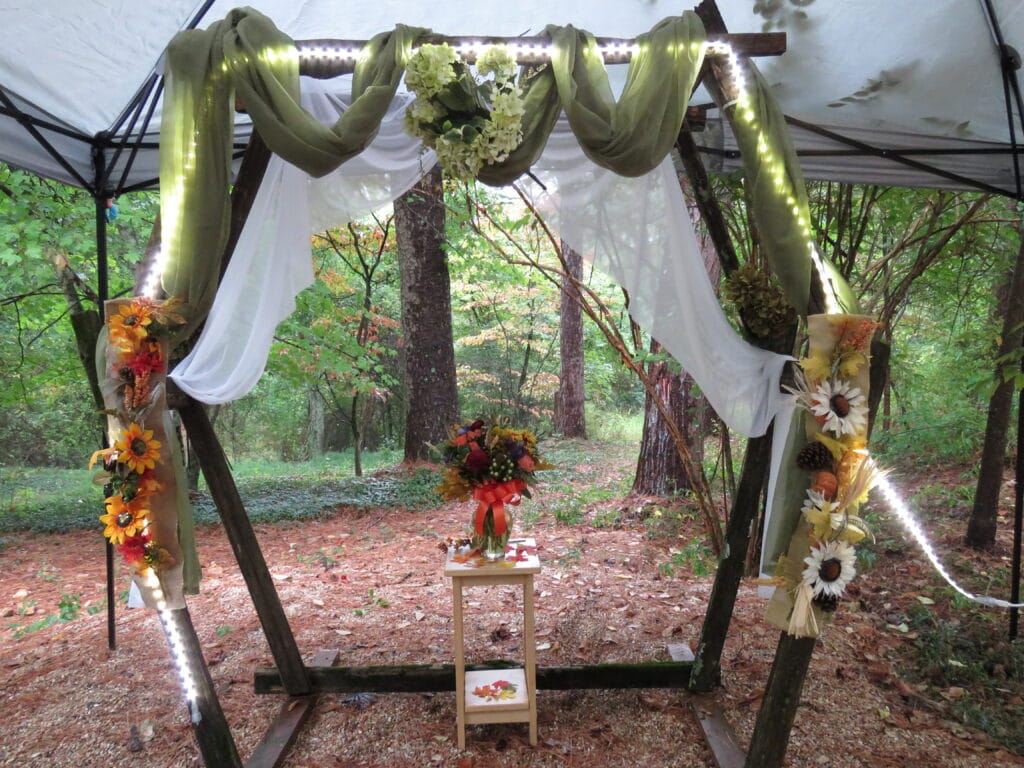 Run Away with Me
$200 Year Round
Bride & groom only. Includes minister, champagne & photos. Other items in list above not included.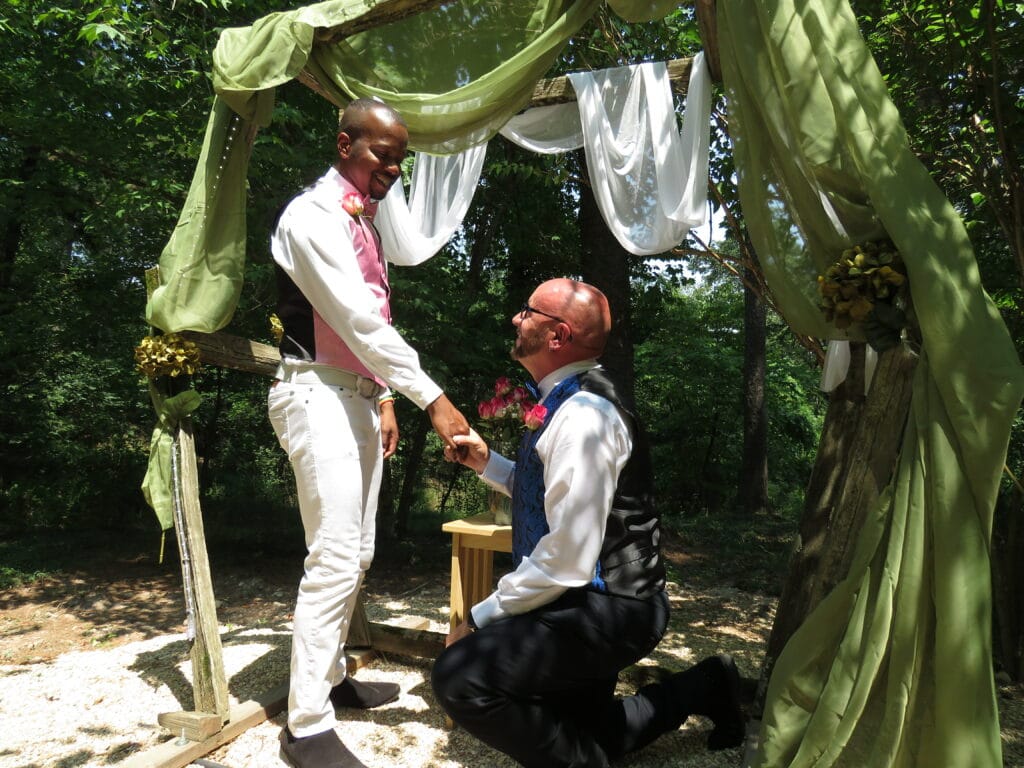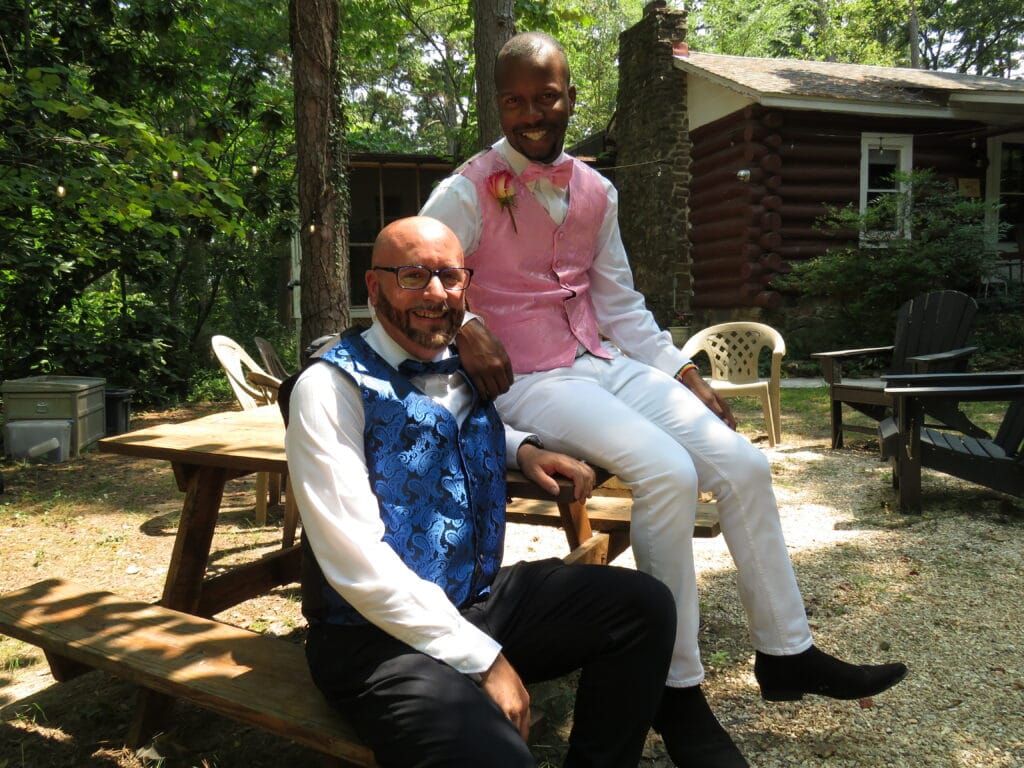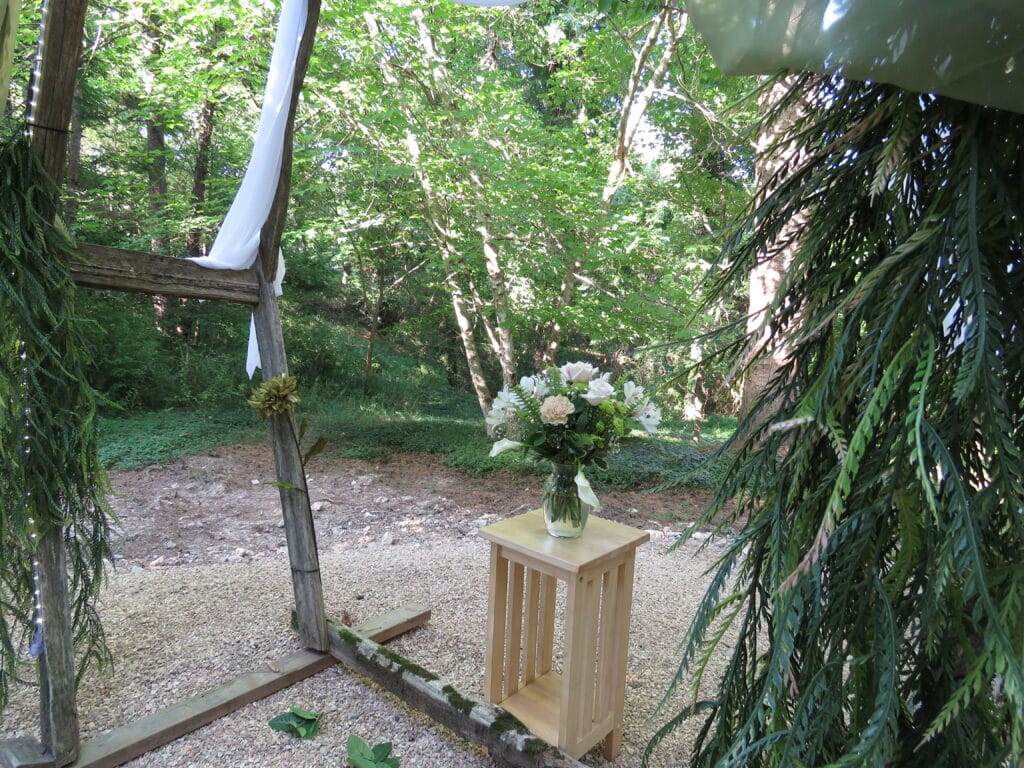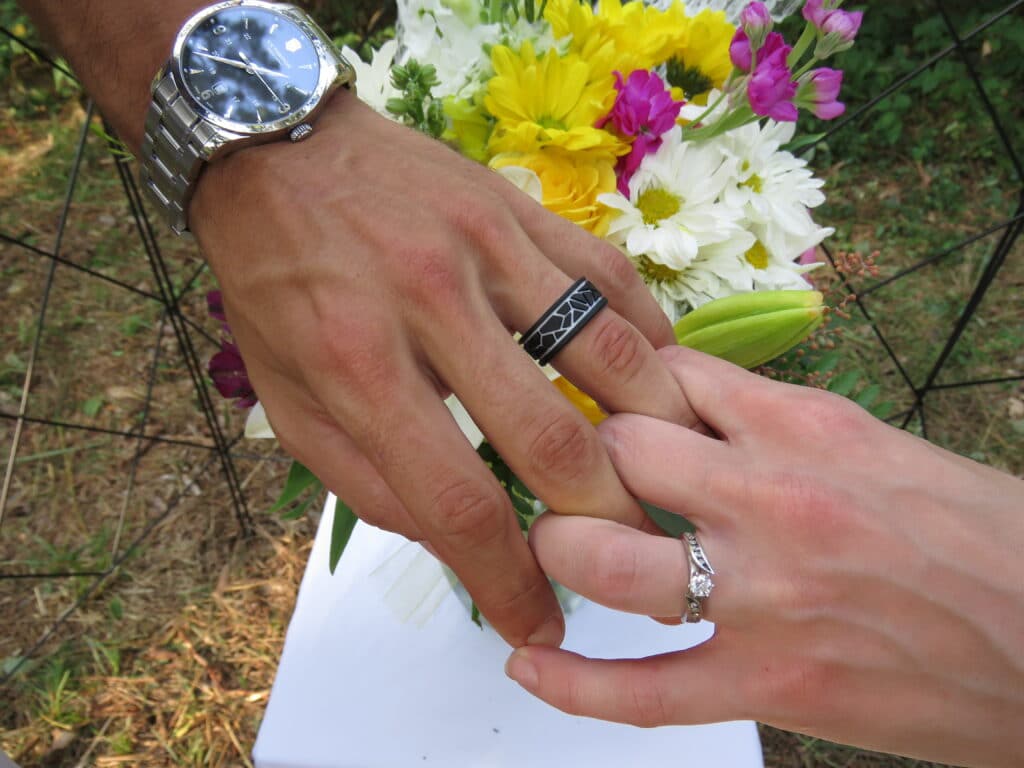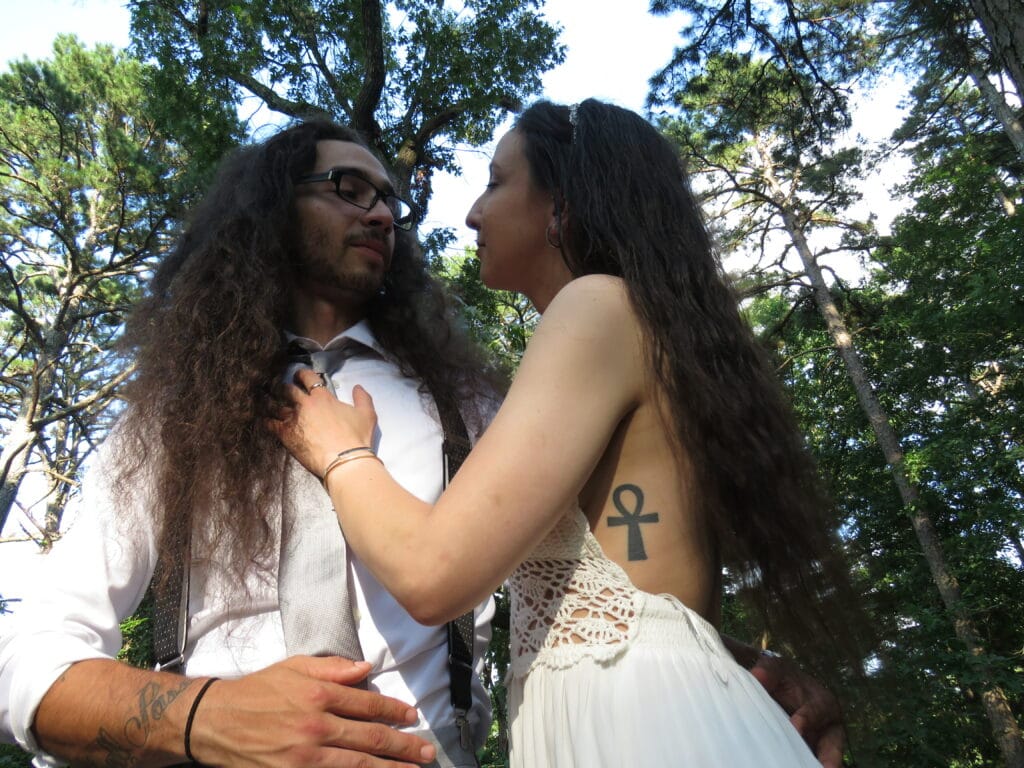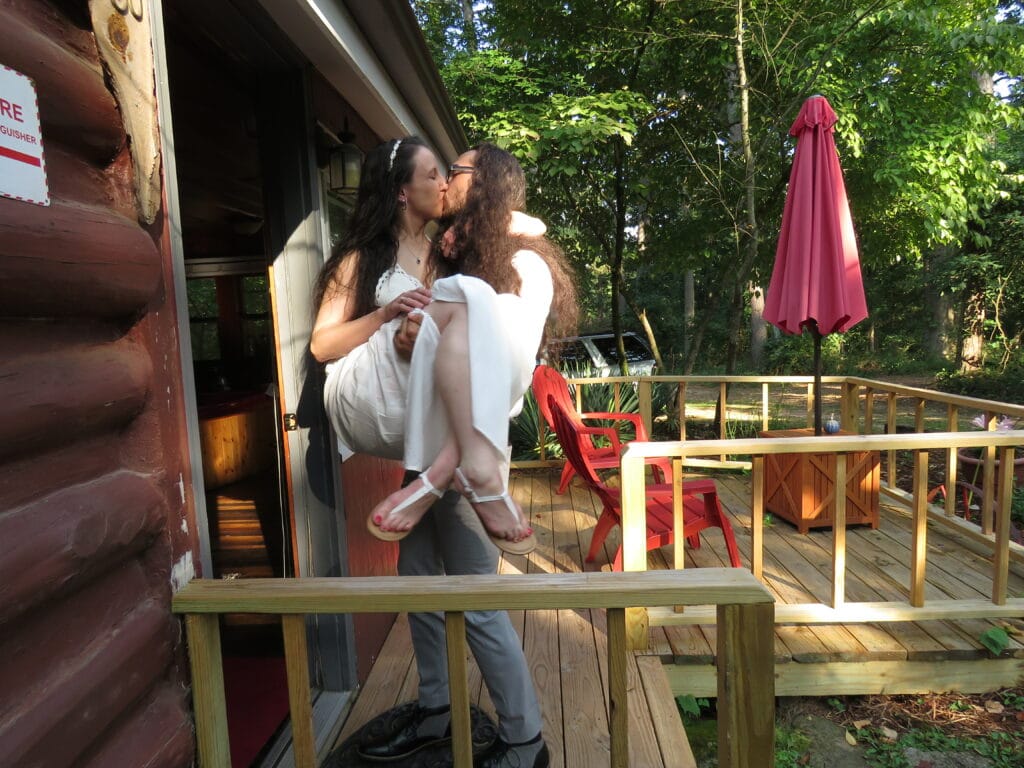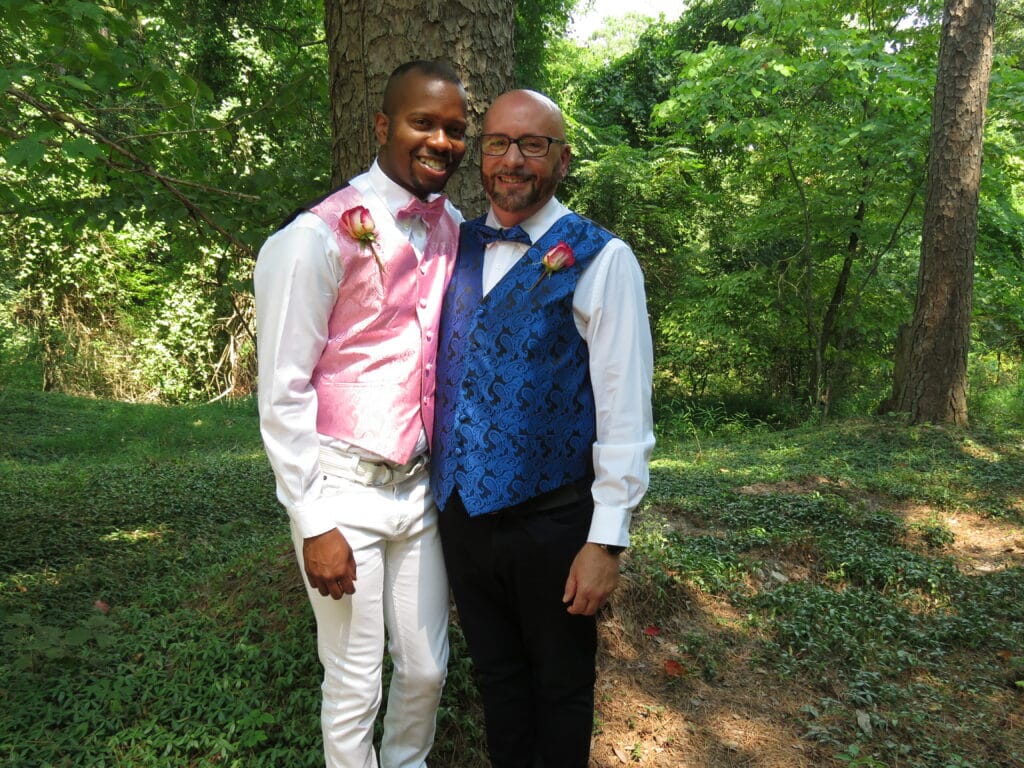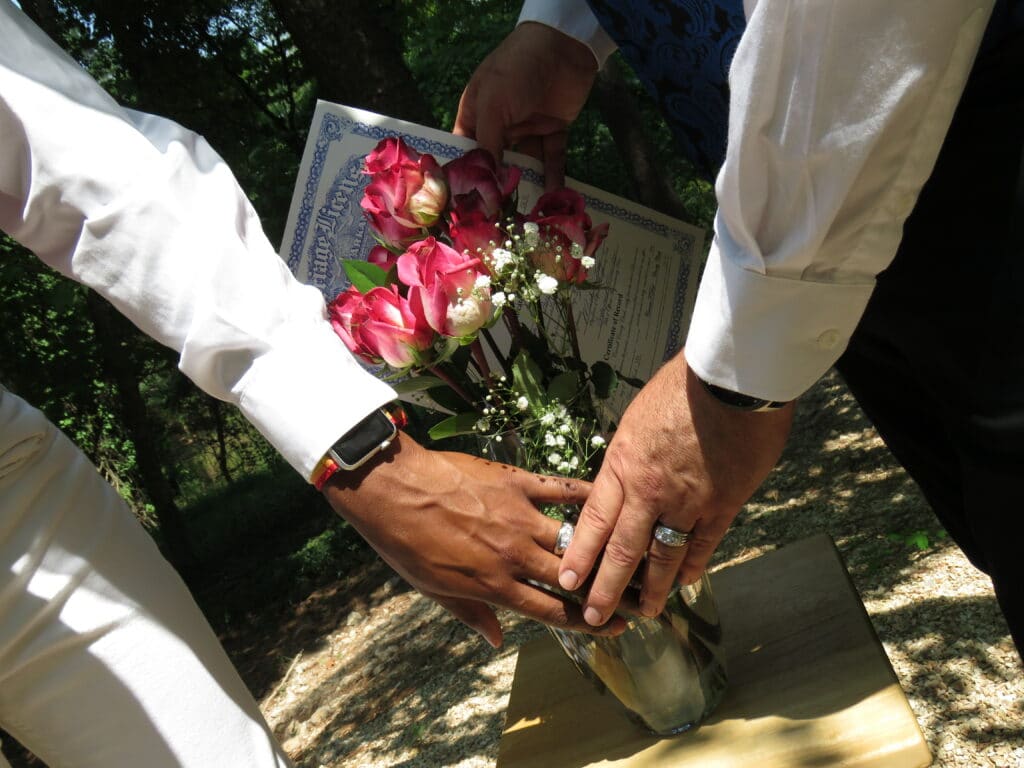 Meals and Catering
Tall Pines Inn has guest food service served take-out style with information on our website. If you wish to provide a meal for a large group we can cater a barbecue meal buffet style for up to 60 guests. Call for details.