First Cabin Stay – Red Cedar Cabin #7
Red Cedar Cabin #7 is "sweet." We chose this lovely little cabin as our first cabin to stay in because seriously, it is near and dear to our heart. If you spend the better part of one year putting a building together from the studs, it does stick, like gum on your shoe, with you. 🙂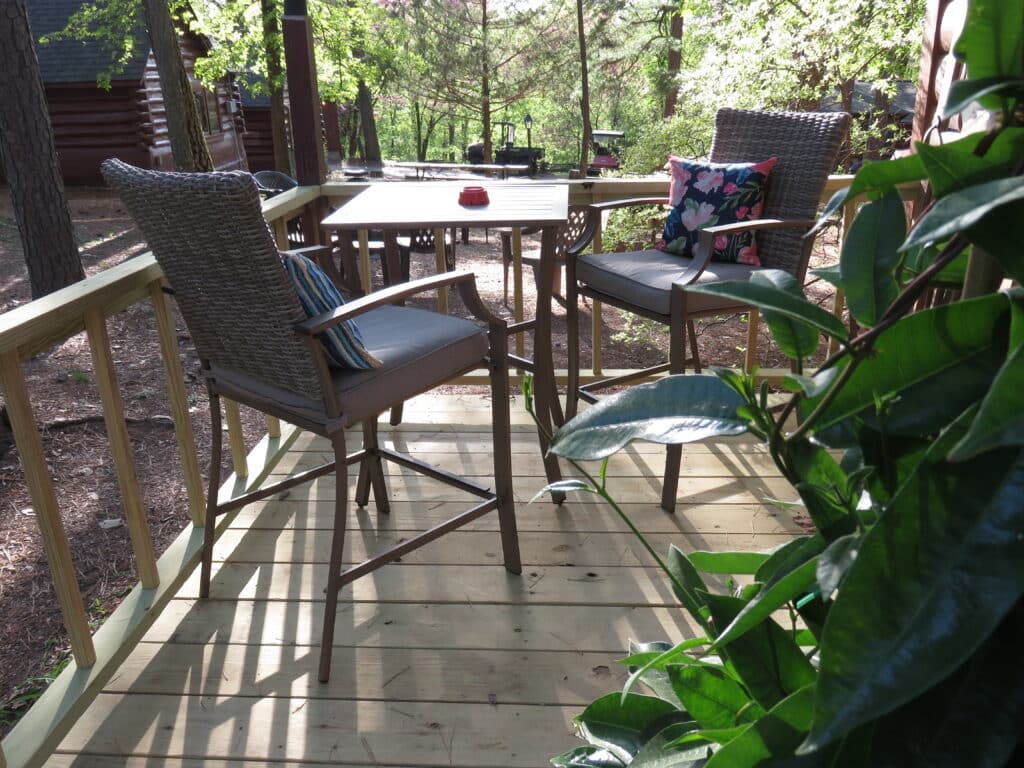 Why We Chose to Remodel Cabin #7
I will be the first to admit Cabin #7 did lack some detailed advanced planning of the construction, call that amateur DIY. Red Cedar Cabin became a luxury cabin in the making and was the original #7 Smoking Cabin, where at one time you could smoke indoors if you chose. Once we purchased the property, we decided to go all "Non-smoking" indoors and allowing smoking only on porches and outdoor spaces.
Demolition Begins
Demolition day was very interesting because we never expected to rip out to the studs, but one board led to the other, and we discovered the studs were the only logical place to stop. It became embarrassing when we had old boards and a toilet sitting outside on the property, and that was where an old shower curtain came in handy. Luckily we had a temporary handyman working with us who offloaded a lot of the heavy tear-out. I have to admit from the point at which we started, to where we had to go – I had my doubts.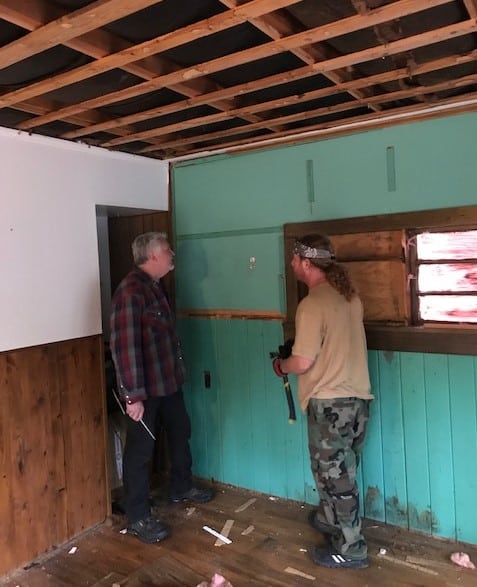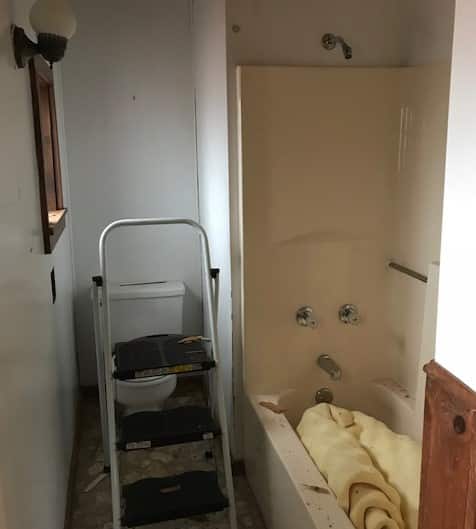 The single greatest challenge was how crooked this little cabin was, "The House That Jack Built," what I called it! Keith, with the assistance of our boys, and a long, frustrating weekend, gave this shifty little cabin a ceiling. Red Cedar continued to throw curve (literally) balls at us day after day. Hmm?? What to do? Ah-Ha – call Paul! That's Michelle's dad, he is the miracle worker when it comes to devising solutions to anything, and just what we needed to work around every little retro-fit frustration we came across. One person would run to the hardware store and, the other two would dry fit, saw, hammer, measure, and cuss!!
We Pulled Out All the Stops
We finally reached the point where we could off-load some work. The crown jewel of this cabin is the Rock Wall shower, for which we brought in professionals for construction. This feature is an eye-popping extra-wide double walk-in Rock Wall shower. Did you ever want to shower in a Cave? We are in love with this feature!! The other feature we love is our beautiful White Oak bathroom vanity top with copper-colored glass vessel sink. The Oak top and Oak backsplash were masterfully hand-crafted by Robert Norman of Woodzy, a true masterpiece.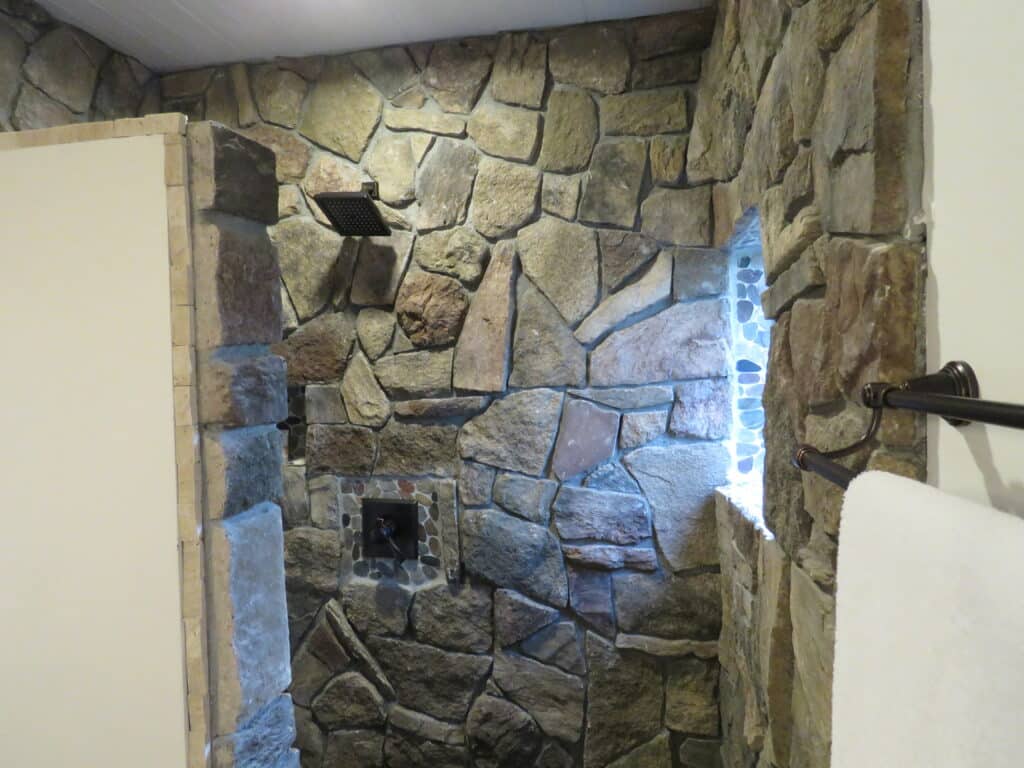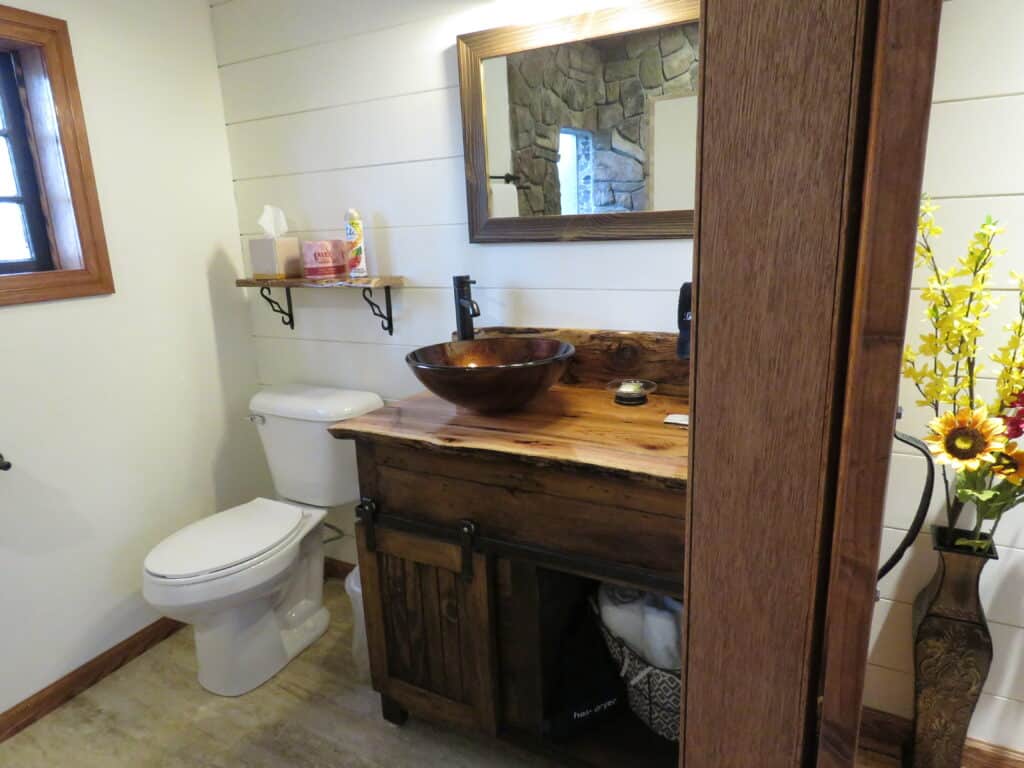 Other features I am so happy with are the window frames made from faux logs that we sanded, stained, and angle cut to give a beautiful finished look. Some of the original window trim we carefully removed, sanded, and burned, to lend a rustic look, then applied polyurethane. While these pieces are old, somehow, I love how they present on the windows after they were burned and finished.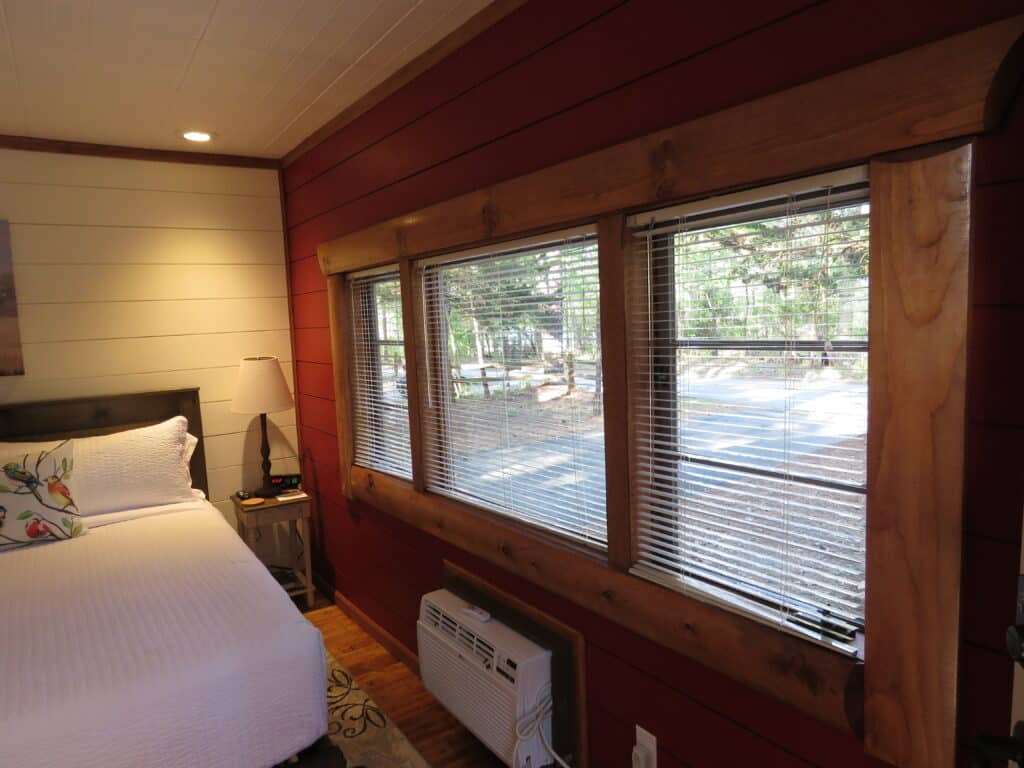 My favorite furnishing in Cabin #7 is the Wine Barrel Wet Bar. We purchased the barrel from e-Bay as a raw unfinished wine (our guess is a lovely Merlot). We sanded the wood and metal bands, then applied stain to match the cabin. Next came cut-outs in the top for the bar sink and faucet, and another cut-out for a small access door in front for plumbing and cleaning supplies – Adorable! The best part is we made this for a fraction of what you can buy a prefabbed one.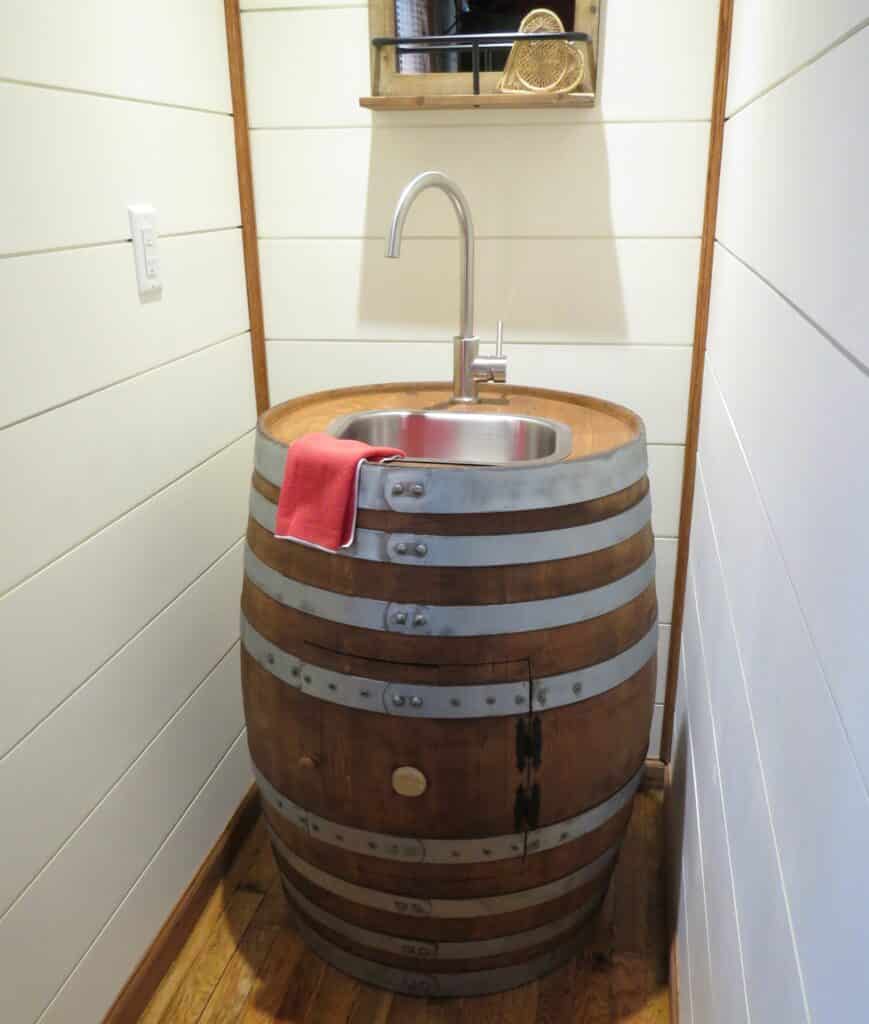 Our Stay in Red Cedar Cabin
Finally, to enjoy our stay, and yes, we did. The first thing you notice when you step in the Red Cedar Cabin is the "new" building odor. I would best describe it as a "new car smell," and almost everyone can identify with that brain trigger. Ahhh – money, am I wrong?!
Red Cedar Cabin is exceptionally comfortable, all the way from the large king bed to the roomy bathroom. It was great to lounge in bed with the new hybrid (gel/memory foam) mattress and watch a movie. Yes, the cabin is one of our smaller units, but what I felt is the Red Cedar has everything one needs, and amenities are all so accessible.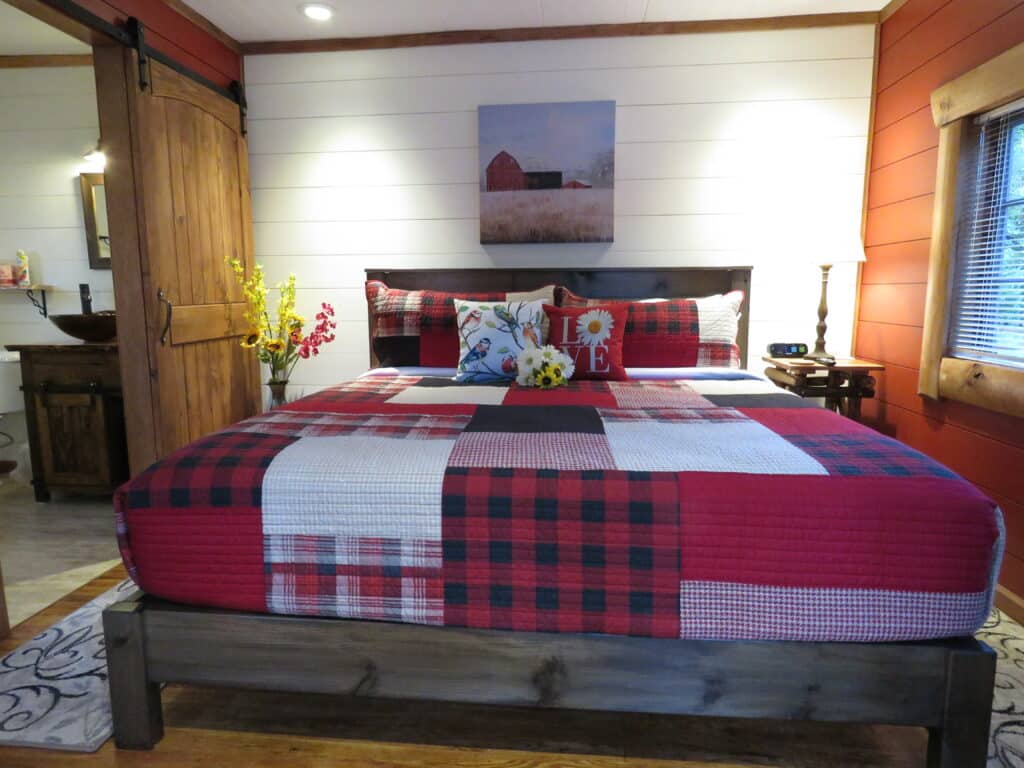 Love the Amenities
There are bathrobes, dishes, Keurig coffee maker, the bar sink for water and washing, the mini-fridge holds a bottle of wine nicely, the bench at the foot of the bed was convenient, and we were able to hang jackets in the small open closet. I would be remiss not to mention that this cabin has one of the largest porches on the property, and Dunkin finds it great for lounging on! 🙂 In all, we enjoyed our stay in Cabin #7 and realize that our HARD WORK has paid off. We love to share the amazing features of this unit with all of our friends.