Eureka Springs Outdoor Fun and Adventure – No need to exclude it just because of cooler weather!
A common question we get from visitors to Eureka Springs, "what is there to do around here?" We can easily answer this question because there is so much to do, despite the crinkle COVID has placed on life. Eureka Springs is famous for its rich culture, art, and music everywhere, but this little community in the Ozark Mountains offers so much more.
Take a Hike
If you like hiking, this is your must visit destination. Hiking trails wind through the area and challenge hikers from all skill levels. Pick your trail and head out for the day! If you are short on time, consider the one-mile leisure trail at Black Bass Lake. Black Bass Lake trail is conveniently located close to downtown and offers beautiful scenery with a relatively simple hike. If you want a longer trek or challenge, check out Lake Leatherwood City Park, with 25 miles of trails and varying skill level, there is something here for the whole family. Visit the Great Passion Play for fun hiking trails. There are trails for beginners, intermediates, and expert level trails that have religious-themed names. Click here for more detailed information.
I Ride My Bicycle
Eureka Springs offers fun biking trails for the visitor of all skills levels. You can enjoy a leisurely bike ride through Eureka downtown or a ride on some of our more extensive park trails. Here you can uncover some of the best mountain biking in mid-America. The courses provide all the way from beginner or intermediate level trails, and the more serious bike enthusiasts can opt for the Lake Leatherwood Downhill Challenge, sporting jumps, and drops. The Great Passion Play offers new trails with four beginners, seven intermediate, and six expert level runs. All of the trails have religious-themed names.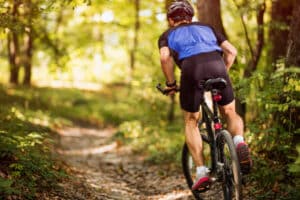 Explore Under Ground
Caving anyone? If exploring caves sounds exciting, you have come to the right place. You will find three beautiful caves within a reasonable drive from Eureka Springs. Cosmic Cavern has fantastic rock formations that will amaze you. This Cavern's tour takes about an hour and 15 minutes and very doable any time of day. Onyx Cave is the oldest touring cave in Arkansas and has been visited by the public since 1893. At the Onyx Cave, you will see amazing formations and dazzling underground beauty. The guided tour is approximately 30 minutes and includes the opportunity to pan for gems or do a little ax throwing. War Eagle Cavern provides general guided cave tours for the general public. There is also a Wild Cavern Tour that includes two miles of narrow passages for adventure seekers who want to crawl and wiggle through two miles of narrow passages.
Zip Along a Zipline
Venture to the west side of Eureka Springs, and you will find Ozark Mountain Ziplines. Soar through the air over the treetops clear up to an altitude of 300 feet! You will take in the amazing Ozark scenery, including streams, treetops, and bluffs. You have your choice of 10 zipline cables that cover a whopping 2,000 feet in length and some strong downward runs that will give you all the speed you can handle. Don't be fooled; this is definitely a family friendly attraction that is worth checking out.
Golfing Anyone?
Yes, the Eureka Springs area is known for its amazing hiking and biking trails and waterways that go on for miles, but we still get questions about where the golf courses are. Eureka Springs has two golf courses that are surrounded by beautiful scenery at a very affordable price. The courses are a short drive away and feature rolling hills, water, and trees. The Holiday Island Country Club, six miles north Eureka Springs, has an 18-hole course. Carroll County Country Club, located just 10 miles east of Eureka Springs in Berryville, is a smaller nine-hole course with challenging greens.
Water Sports and Adventure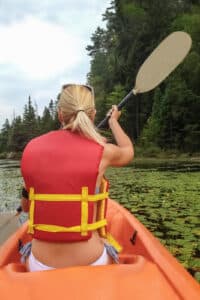 Eureka Springs has a plethora of bodies of water to provide non-stop water adventure. Whether you are looking for water fun in the sun or good outfitters for a day of fishing and boating, you can find it here. Kings River is a 90-mile winding river that flows north and offers many access points along the way.
Lake Leatherwood City Park is a location of natural beauty and includes 85 acres of a spring-fed lake. Built during the 1940s, this lake is one of the largest hand-cut limestone dams in the country. Lake Leatherwood Park is listed on the National Register of Historic Places and offers many recreational opportunities for the outdoor enthusiast. Hikers and bikers will discover over 25 miles of trails with terrains to suit everyone's taste. Lake Leatherwood stocks a variety of fish and includes a paved boat ramp and handicap accessible launch.
Beaver Lake, a man-made reservoir located Ozark Mountains of Northwest Arkansas, attracts visitors far and wide. A dam on the White River formed the lake. Beaver Lake has approximating 487 miles of shoreline and has a jigsaw puzzle appearance with limestone bluffs, caves, and various trees, vegetation, and shrubs along its shores. Beaver Lake is popular for water sports and fishing alike.
You will find several outfitters and shops to assist you with equipment, gear, and services needed to head to the lake. A few include Kings River Outfitters, Float Eureka, Riverside Canoe Rentals, Holiday Island Marina, Trigger Gap Outfitters, and Beaver Dam Store.