Did you know Tall Pines Inn provides late and flexible check-in that fits your schedule?
Arriving late and concerned about how to check-in? Don't worry; we have you covered! After hours, Tall Pines Inn provides a stress-free check-in process. No need to rush, make a lot of phone calls, or worry about losing your room. So how does it work you wonder?
Late Check-In Process at Tall Pines Inn
Our check-in time is 2 PM-7 PM, during which time you can complete your registration and pick up your keys and a property map. We escort our guests to their cabins and assure everything is in order. Please note there are times, such as quiet weeknights, when the office may close early. Please don't be alarmed as we are only a phone call away.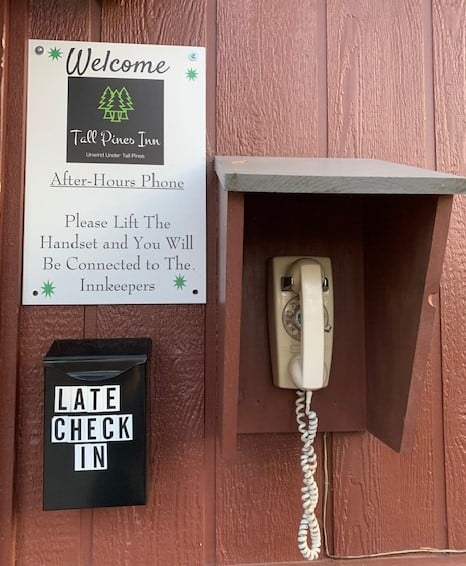 Late Check-In Box and Innkeeper Phone
A late "Self Check-in" is provided for guests who know they will arrive after 7:00 PM or those with unexpected travel delays. You will find Tall Pines Inn on the corner of Highway 62 and Pivot Rock Road, with the main entrance ON HIGHWAY 62. Yes your GPS will send you down Pivot Rock Road – WRONG! As you enter our property the first building on the right, next to the swimming pool, is our office.
What To Expect
At the office door you will notice a black metal box labeled "LATE CHECK IN". IF you have not checked in by the time we close the office we will leave an envelope in this box for you with your name and cabin number written on it. The envelope will contain the following:
Map of the property with your cabin highlighted
Your private parking highlighted
Paperwork such as our check-in policies and your receipt (if applicable)
Your cabin key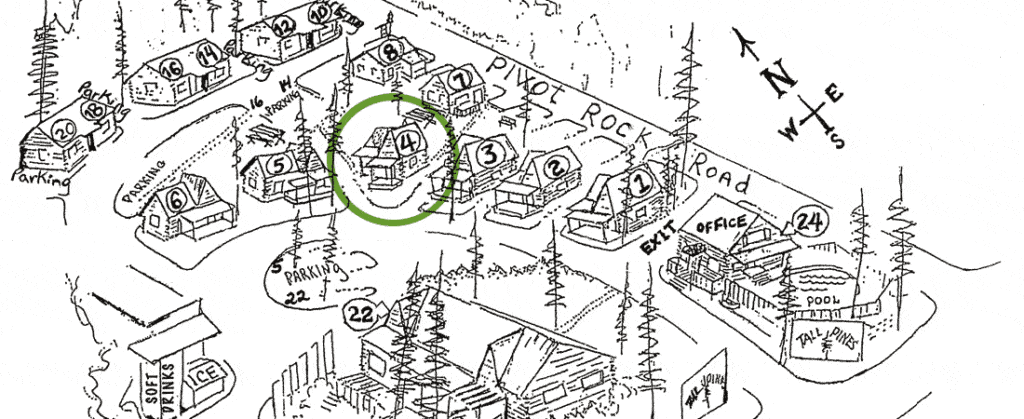 It is important to note even if you are doing a late "self check-in" you are not on your own. We are always close at hand and our phone number is on your paperwork. Feel free to call us if you need assistance with finding your cabin, operating anything in the cabin, or have any questions once inside.
Don't Stress – Just Enjoy
It is our goal as Innkeepers of Tall Pines Inn to be as accommodating as possible for your busy schedule. So, check-in, make yourself at home and rest. Put your feet up, go out and enjoy a cocktail on your private porch, enjoy a fire at one of our three fire pits, or flop down on the comfy, clean bed and watch some cable TV. Your Innkeepers will be around in the morning to help you with the details. Finally, take time to smell the Pine Trees!